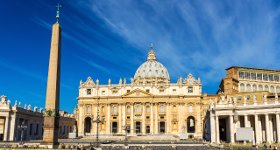 St Peter's Basilica with Official App
Rapid confirmation.
A reserved entrance tour which allows you to explore the masterpieces of Saint Peter's at your own pace with the official app of the Basilica. The app is available in eleven languages and does not require data access (just GPS) - you are then free to enjoy your visit in total freedom, with the app highlighting and explaining over thirty points of interest.
** This self-guided tour replaces the 'Audioguide' tour, it's just that it now uses an app instead - you may see past reviews here.
Enjoy the magnificent architecture and artworks of this remarkable church. The app tour lasts an hour and is available in English, Spanish, Chinese, French, German, Russian, Italian, Japanese, Korean, Polish and Portuguese. You'll have the freedom to explore at your own pace and in the order you decide - but be sure not to miss Michelangelo's "Pietà", the high altar and Bernini's "Baldachin", or the Chapel of the Confession!
This tour includes reserved entrance before the metal detectors, and the use of an official app in one of eleven languages for the Basilica; after you've been admitted to the Basilica you'll be given a code to use for downloading the tour into the app - please search your App Store for the 'VOX City' app and install it in advance of your visit. Earphones are not included - you can bring your own or purchase them at the desk for €1. The tour doesn't include entrance to the Sistine Chapel or the Cupola, hotel transfers or any optional activities.
The tour lasts approximately one hour and you may visit anytime during the time selected, with two morning slots and two afternoon slots - if you're flexible (always a good idea at the ever-busy Vatican!) then please select an option, letting us know that you'd be willing to accept a time in the morning, in the afternoon, or at any time of the day. There are a few restrictions on holidays, Wednesdays and Sundays - you'll see which times are available on your chosen date during the checkout process.
On Wednesday mornings, access to the Basilica and St Peter's Square may restricted due to the Papal Audience.
Please note that there is a strict dress code for the Vatican - shoulders and knees must be covered and low cut/sleeveless tops and shorts are not permitted for men or women. Clients that do not adhere to the dress code will not be permitted to enter the Vatican.
It is obligatory to leave the following items outside: suitcases, backpacks and containers larger than 40 x 35 x 15 cm, bags and backpacks that jut out by more than 15 cm from the body, baby strollers/buggies, medium to large umbrellas, any umbrella with a spike, walking sticks (unless necessary due to disablement), tripods for cameras and video cameras, signs of any kind, knives, scissors, tools and any items that could be used to harm people or damage works of art. It is forbidden to enter the Vatican with firearms or any kind of weapon.