Florence - guided tours of the 'art museums' from tickitaly.com
See further down this page for details on options for a personal, private guided tour of Florence's art treasure-troves, but please also note that we offer some fixed-price, pre-arranged tours that are extremely popular. The first of these is the three hour long 'Morning tour of Florence' that includes a trip up to Piazzale Michelangelo for some splendid views across the city, followed by a guided tour of the heart of Florence, the cathedral area, and then on to a no-need-to-queue accompanied visit for a tour of Michelangelo's David at the Accademia Gallery. We also offer a variant of this same morning tour that is followed up by a lunch in a traditional local restaurant - click here for information on this Florence tour with lunch included.
Next comes the three and a half hour 'Afternoon tour of Florence' which starts with a trip up to the Etruscan hilltop town of Fiesole, followed by a tour around the areas of Santa Croce and the Palazzo Vecchio, and finishes with a guided tour of the Uffizi Gallery. The tour finishes in the gallery itself, but you're free to carry on exploring afterwards.
Should both the morning and afternoon tours sound tempting, then simple - buy a combined Florence tour ticket and enjoy them both, at a reduced cost.
tickitaly.com are also able to set you up with a personal guided tour of the art museums of Florence, further enhancing your pleasure and understanding of the treasure troves on offer.
Grazia Badino is an official art guide, licensed by the city of Florence, and has been authorised to conduct tours of Florence and Fiesole since 1998. Contact us via email or use our contact form to request further tour information and booking details.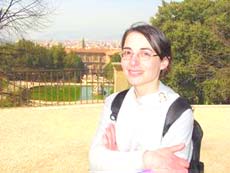 Grazia Badino is an Art historian who graduated and specialized at the University of Florence, and a free-lance researcher in the fields of Italian 16th and 20th century Art and Architecture; she has had published various essays and catalogues in her field.
Since 1995, Miss Badino has been charged with the project of inventorying and cataloguing several National Cultural Heritage Property works of art in Tuscany and Liguria, and in curating and organizing art exhibitions in different cities since 2000.
The prices for the tours are as follows (please note that prices are NOT inclusive of entrance tickets - please use the links in the menu to the left to book museum tickets in the normal way):
Half-day tours:
(max 3 hours): Groups of up to 10 people: Euro 250,00; groups of 11 - 30 people: Euro 320,00
(max 4 hours): Groups of up to 10 people: Euro 300,00; groups of 11 - 30 people: Euro 370,00
Full-day tour:
(max 6 hours): Groups of up to 10 people: Euro 530,00; groups of 11 - 30 people: Euro 600,00
Again, please contact us for further tour information and booking.