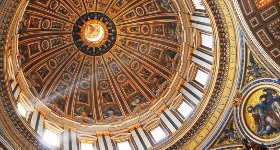 Guided tour of St Peter's Cupola
This reserved entrance guided tour offers a chance to appreciate the wonders of the Dome - Cupola - of St Peters, with its fantastic views of Rome.
With reserved entrance to both the Vatican and the Dome of St Peters, you'll be in the hands of expert guides. The tour lasts approximately one hour and fifteen minutes and group sizes are kep deliberately small - a maximum of 20 guests. You'll take the elevator up to the base of the Cupola - avoiding the 171 steps - and enjoy a breathtaking view of the interior of the Basilica. From there you can head upstairs (approximately 300 steps) to enjoy breathtaking views of the Eternal City, the Vatican Gardens and the panorama of Rome from the highest building in the city. These are views of Rome that simply can't be had elsewhere!
The tour lasts around 75 minutes, is available throughout the week and is conducted in English, French, Italian, Spanish and German.
This tour requires a degree of physical fitness, and is not suitable for over-75's or for sufferers of vertigo or claustrophobia.
Please note that there is a strict dress code for the Vatican - shoulders and knees must be covered and low cut/sleeveless tops and shorts are not permitted for men or women. Clients that do not adhere to the dress code will not be permitted to enter the Vatican.
It is obligatory to leave the following items outside: suitcases, backpacks and containers larger than 40 x 35 x 15 cm, bags and backpacks that jut out by more than 15 cm from the body, baby strollers/buggies, medium to large umbrellas, any umbrella with a spike, walking sticks (unless necessary due to disablement), tripods for cameras and video cameras, signs of any kind, knives, scissors, tools and any items that could be used to harm people or damage works of art.
It is forbidden to enter the Vatican with firearms or any kind of weapon.