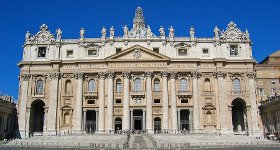 Guided tour of St Peter's Basilica
Rapid confirmation.
Enjoy the wonders of the magnificent Renaissance Basilica of St Peters with the help of an experienced, licensed tour guide.
This small group tour (maximum 25 guests) lasts for an hour and 15 minutes and is conducted throughout the week in English, French, Italian, Spanish, Portugese and German. Your experienced guide will show you the secrets and highlights of St Peters including Michelangelo's "Pietà", Bernini's "Baldacchino" and the underground Chapel of the Confession.
The tour includes your reserved entrance to the Basilica (saving more than an hour) and headphones so that you can hear your guide. It does not include tickets to the Sistine Chapel or the Cupola of St Peters.
Please note that there is a strict dress code for the Vatican - shoulders and knees must be covered and low cut/sleeveless tops and shorts are not permitted for men or women. Clients that do not adhere to the dress code will not be permitted to enter the Vatican.
It is obligatory to leave the following items outside: suitcases, backpacks and containers larger than 40 x 35 x 15 cm, bags and backpacks that jut out by more than 15 cm from the body, baby strollers/buggies, medium to large umbrellas, any umbrella with a spike, walking sticks (unless necessary due to disablement), tripods for cameras and video cameras, signs of any kind, knives, scissors, tools and any items that could be used to harm people or damage works of art.
It is forbidden to enter the Vatican with firearms or any kind of weapon.