tickitaly.com offer an ever-increasing range of Milan guided tours, and on this page we attempt to summarise them for you. From gallery tours, walking tours, art tours, and tours with lunch included, to cooking courses, tours by bike or Segway, all the way up to customised tours to suit your interests, we hope to cover most everything that could possibly enhance a visit to the unforgettable city of Milan.
Again, everything listed below is a Milan guided tour, in one form or another - if you're after straightforward ticket booking for Da Vinci's Last Supper or Da Vinci "Codice Atlantico" exhibition, then, please use these links.
If you're looking for excursions from Milan (outings and day trips to places nearby) then we have those also - click here for details.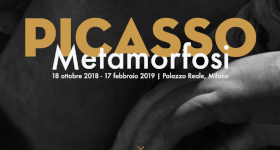 Milan Picasso Exhibition
We're sorry to no longer be offering this tour to be booked online, but, should you be interested in a private guided tour then please get in touch to discuss pricing and availability.
An ambitious exhibition at Milan's Palazzo Reale featuring over 200 works. Enjoy skip-the-line access and explore Picasso's genius with your english-speaking guide in a tour lasting roughly two hours - cost includes entrance tickets and guide. The exhibition runs from October 18th 2018 to February 17th 2019.
Picasso 'Metamorphosis' exhibtion, guided tour:
Milan's Palazzo Reale - Royal Palace - was home to a very popular Picasso exhibition in 2012, and this looks set to equal its success. The theme of the exhibition is Picasso's relationship and representation of myth and antiquity, of fable and legend, with works gathered from national and international collections, notably the Louvre, the Musée National Picasso, and the Vatican Museums.
You'll be accompanied at all times by your knowledgeable guide as you explore the exhibition's six themed sections, each attempting to juxtapose Picasso's works with pieces of ceramic, statuary, votive plaques and ancient reliefs that were inspirational and influential to his thinking and output.
The tour lasts approximately two hours and you're welcome to stay and further explore the exhibition once the guided tour is complete.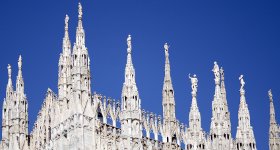 Milan Food Tour
This three hour English-language guided tour offers a chance to sample some traditional Italian delicacies while exploring the historical Brera district of Milan in the company of an experienced guide.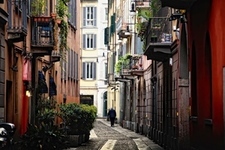 The tour makes six stops to sample classic Italian and Milanese delicacies, such as Cannoli cream pastries, Melanzane alla Parmigiana, dry cured Culatello Ham, Mondeghili meatballs and of course gelato. You'll have a chance to sample artisanal Italian beer and a spritzed sample of aged grappa. Please note the menu may change according to seasonal availability of ingredients.
As well as a detailed and interesting explanation of the various foods and their sources, your experienced guide will give you a colourful history of this historical neighbourhood, including the ancient canals or Navigli and the futuristic Porta Nuova - constructed especially for the International Expo in 2015.
The tour runs from Mondays to Saturdays April to October (apart from August), and just on Mondays, Wednesdays and Saturdays at other times; the tour starts at 10.00 AM and lasts about 3 hours.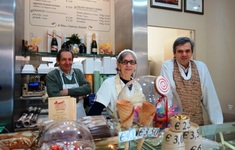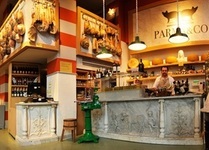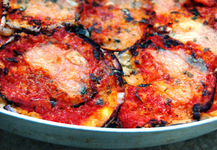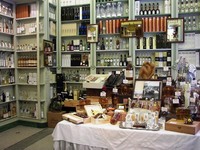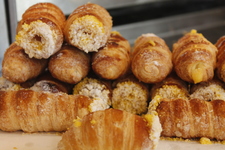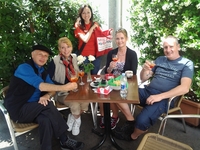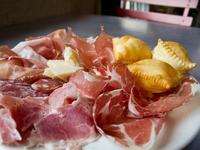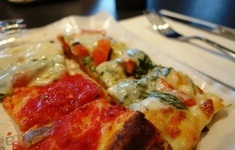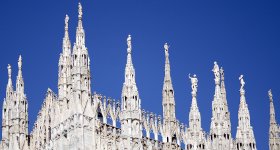 Milan, 'Fashion & Cocktail' tour
Enjoy a small (maximum 15 people) group tour in around the designer district of Milan; yes, you'll get an insiders view of this most exclusive destination but, uniquely, it'll be backed up by the history of 'what came before'. The tour ends with a signature cocktail in a rarefied atmosphere! Tour runs every Thursday and starts at 4.20 PM.
Immerse yourselves in the glamour of Europe's fashion capital with this journey through glamour and elegance, backed up with historical detail and insight. The tour begins with a brief visit to Palazzo Morando in the very heart of Milan's designer district. Bequeathed to the city council in 1945, it is know home to the civic costume and portrait museum. The property has been maintained in the style of an 18th century aristocratic dwelling and, amongst other things, is home to a fine collection of paintings of Milan through the ages.
It's then on to the designer-heaven of Milan's select shopping thoroughfares, with some surprising tales of what this area was before it become the most sought-after shop window for the world's leading ateliers. A tour that is definitely much more than 'just' fashion, it ends in style with a signature cocktail in the rarefied atmosphere of one of the city's most exclusive locations.
The tour is only for those aged over 18 and, cocktail time aside, lasts around 2 hours 30 minutes. Total distance covered is around 2 kilometres.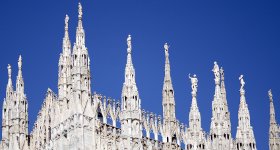 Milan Fashion Tour
A guided tour of Milan's 'Quadrilatero della Moda', one of the world's most prestigious shopping districts. Your expert guide is a mine of interesting facts and unusual details about the many fashion houses and boutiques that are concentrated in this zone.
The tour is in English and runs on Friday mornings (Tuesday, Wednesday, Thursday, Friday from 1st April to 31st October), lasting two and a half hours. You'll set off from Via Manzoni and visit Via della Spiga, Via Santo Spirito, Via Gesù, Via Sant'Andrea, Via Bagutta, Corso Venezia, Piazza San Babila, Via Montenapoleone, Via Manzoni, Piazza della Scala finishing at Galleria Vittorio Emanuele II.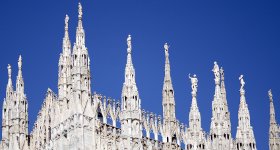 San Siro Stadium Tour
A guided tour of the San Siro Stadium - Italy's largest stadium and home to Inter and Milan.
San Siro Stadium (Stadio Meazza) is a temple of football - the biggest stadum in Italy with 80,000 seats. This tour, conducted in English, will visit the stands, the locker rooms, the benches (or bleachers) and the pitch. The stadium is home to both A.C. Milan and F.C Internazionale Milano, and the tour includes free time to visit to the 'Inter and Milan' museum which houses an impressive display of trophies, players' shirts and other memorabilia. There will also be time to pick up a souvenir in the stadium shop.
This tour operates on Mondays throughout the year, and on Thursdays between April and November 2013, starting at 10.30 in the morning and returning to the pickup point at 1 PM.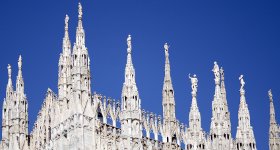 Milan Cemetery tour
A guided tour of Milan's 'Cimitero Monumentale', opened in 1866 and notable for its architecture and funerary sculptures.
This Saturday-afternoon (2.30 PM) tour covers the highlights of this famous cemetery and is conducted in English by an informative and interesting guide. You'll discover one of Milan's often overlooked gems, a testimony to many historical greats of Milan, celebrated and remembered through fine statuary and ornate sculptures.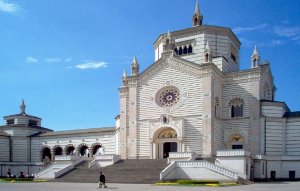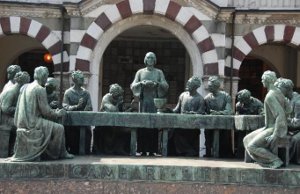 Great geniuses artists and important families have been buried here and through the stories fo them and their families you'll be living a unique journey through art, legend and history.
The tour includes a visit to the neo-mediaeval Famedio and the Civico Mausoleo Palanti, as well as the artistic tombs, temples and monuments of notable artists, composers, industrialists and politicians. Tour sizes are
The tour runs on Saturday afternoons throughout the year, starting at 2.30 PM.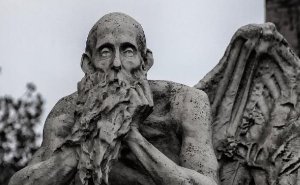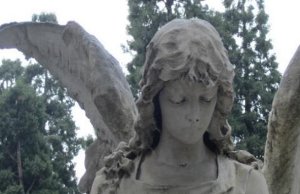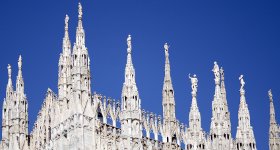 The "New Milan" tour
Discover the soul of contemporary Milan on this one and a half hour guided walking tour of the modern city centre.
Starting at the Palazzo Lombardia you'll visit the Regional Government Headquarters. Proceeding to Piazza Gae Aulenti in the Porta Nuova district, you'll enjoy breathtaking views of famous skyscrapers such as the Pelli Tower and the 'Bosco Verticale' or vertical forest! You'll then walk along Corso Como to the Eataly delicatessen, renowned for its selection of top-end Italian gourmet products. You may opt to go on and shop/taste to your heart's content, or perhaps slow down and engage in some people watching with a good 'aperitvo'.
The tour runs every day of the week and includes all taxes and the services of your English speaking guide.
Please note that this tour is available for a minimum of 2 people.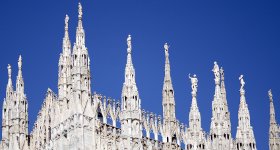 Navigli walking tour
Explore the picturesque canals of Milan's Navigli district in the company of an experienced guide on this late-afternoon walking tour.
Your guide will explain the history and traditions of this fascinating area as you stroll along the canal sides. Points of interest include Piazza Sant'Eustorgio, Darsena, Ponte del Trionfo, Naviglio Pavese, via Magolfa, Ponte dello Scodellino, Naviglio Grande and Vicolo Lavandai. During the tour you'll also enjoy a glass of wine from the Lombardy region.
The tour runs on Thursdays, Fridays, Saturdays and Sundays and lasts roughly an hour and a half, leaving you to explore the area (famed for its night life) on your own at the end of the tour.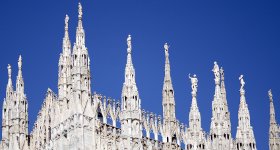 'Highlights of Milan' walking tour
A great introduction to the unique city of Milan, this walking tour last roughly two and a half hours and takes in the main 'must-see' places of Milan. Please note that this tour does not include a viewing of the Last Supper, unlike many of the other tours we offer.
You'll begin the tour in the very heart of Milan and enjoy a pleasant stroll in the company of a well informed - and English speaking - local tour guide.
There's unlikely to be a better way to introduce you to Milan and to allow you to get your bearings and sense of place. This tour (you'll be given audio headsets as required) begins at the Duomo, Milan's eye-watering Gothic cathedral - this is where you'll meet up with your guide.
(You won't actually enter the cathedral - if you want to do so independently please remember that, in common with all religious buildings in Italy, do not wear shorts, sleeveless tee-shirts or other inappropriate clothing.)
During the course of the tour you'll visit the Galleria Vittorio Emanuele II, Piazza della Scala and 'La Scala' Opera House (exterior), Piazza Mercanti, the enormous Sforza Castle and the Church of S. Maria delle Grazie, home to the Last Supper (again, this tour does NOT include a viewing).
The tour runs at various times and on various days of the week - we'll show you everything that's on offer when you select a date on the calendar. Tour groups are relatively small and you'll not be part of a group that numbers more than 25 people.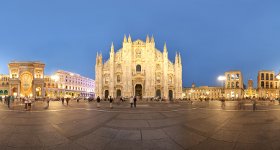 Milan tour, Duomo & La Scala (2 hour)
A guided two hour walking tour taking in some of Milan's must-sees: the Cathedral, La Scala and the Vittorio Emanuele Gallery. The tour runs year-round, departing at mid afternoon on Fridays.
Please note that although this tour does have priority entrance to the Cathedral, some queueing may be necessary due to intensified security procedures.
This tour, over and above the advantages of licensed English-speaking tour guides, benefits from having skip-the-line access to the Cathedral (Duomo) and La Scala included.

Tours last 2 hours and head off at 2:45 PM (visiting La Scala and then the Cathedral) on Fridays only. Group size is small - a maximum of 20 to 25 people - and, if more than ten in group, you'll benefit from dedicated headsets in order to not miss anything.
La Scala Opera House is one of the most famous in the world and home to its own museum; unless there is a performance or rehearsal taking place then you'll also have the chance to view the interior of La Scala from one of the gallery boxes, looking out to the fabulous crystal chandelier and the legendary stage itself. If there does happen to be a performance or rehearsal taking place then no refunds can be offered. You'll also get a look around the Vittorio Emanuele II Gallery, a Milan landmark and reckoned to be one the first shopping malls in history!
The Duomo, Milan's well known Gothic fantasy, is one of the largest churches in the world and perhaps the true symbol of the city - not for nothing does it attract over 5 million visitors a year!