Tickets for the 2022 Verona Opera Festival are now available. Events will range from 17th June through to 4th September 2022.
Information on performance dates, ticket types and a seating plan for the Verona Arena
Tickitaly sell several types of ticket (explanation here), your tickets will be delivered (from Italy) by courier service.
If you'd like to be kept informed about performances and ticket availability for the 2023 edition of the Verona Opera Festival then please sign up to our mailing list here.
Please note that an Agency handling fee per item will be added during checkout.
Seating key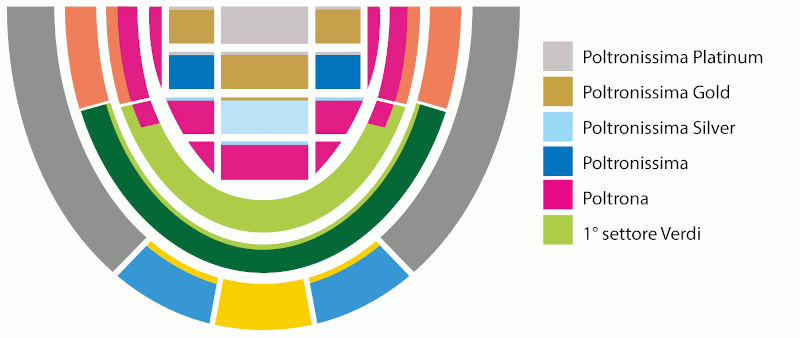 Timings: Times vary by date and event but are normally between 8:45 PM and 9:15 PM.
The Verona Arena, select and book your opera tickets:
Carmen:
Friday 17th June, Friday 24th June, Thursday 30th June, Thursday 14th July, Thursday 21st July, Sunday 31st July, Thursday 11th August, Sunday 14th August, Saturday 27th August
Booking, and a detailed description and history of Carmen
Aida:
Saturday 18th June, Thursday 23rd June, Sunday 3rd July, Friday 8th July, Saturday 16th July, Sunday 24th July, Thursday 28th July, Friday 5th August, Sunday 21st August, Sunday 28th August, Sunday 4th September
Booking, and a detailed description and history of Aida
Nabucco:
Saturday 25th June, Friday 1st July, Thursday 7th July, Sunday 10th July, Saturday 23rd July, Friday 29th July, Thursday 18th August, Saturday 3rd September
Booking, and a detailed description and history of Nabucco
La Traviata:
Saturday 2nd July, Saturday 9th July, Friday 15th July, Friday 22nd July, Saturday 30th July, Saturday 6th August, Saturday 20th August, Thursday 1st September
Booking, and a detailed description and history of La Traviata
Turandot:
Sunday 7th August, Wednesday 10th August, Saturday 13th August, Friday 19th August, Friday 26th August, Friday 2nd September
Booking, and a detailed description and history of Turandot
Previous events: Don Giovanni, Romeo and Juliet, Il Trovatore, Barber of Seville, Carmen, Madam Butterfly, La Boheme, Rigoletto, Tosca Turandot, La Traviata, Cavalleria Rusticana, Pagliacci, Aida, Nabucco,
Verona Opera links: Seating + Tips & practicalities + The Operas + Transport & arrival + Introduction