No trip to Campania would be complete without a visit to the beautiful island of Capri. A favourite resort of the Roman Emperors and the artists of Europe, the island is a treasure trove of villas and roman remains, the Blue Grotto, gardens and parks, and provides wonderful views of the Gulf of Naples.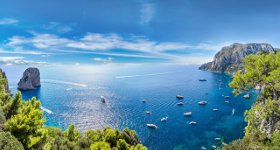 Day trip from Sorrento to Capri and Anacapri
A day trip from Sorrento to the island of Capri, with a chance to explore Capri and Anacapri and enjoy the stunning views of the Bay of Naples.
This tour includes your multilingual guide, transport to Capri and a minibus on the island, but does not include any meals or extra fees.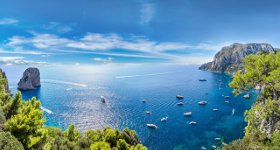 Day trip from Rome to Capri and the Blue Grotto
A day long excursion with a professional guide, leaving Rome early in the morning, to the enchanted Isle of Capri in the Bay of Naples, with lunch in the scenic village of Anacapri and a visit to the famous Blue Grotto.
HOW YOU'LL GET YOUR TICKETS:
To reserve your tickets for an excursion to Capri, just fill out the booking form, supply us with credit card details, and we'll do the rest. There will be no charge whatsoever until we confirm your reservation. We'll then point you to our secure page, where you can print out your voucher. Print it out, take it with you and present it at the pre-arranged meeting point. As simple as that!