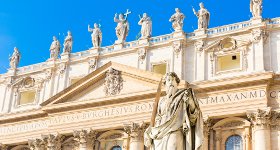 Guided tour of St Peter's and the Mosaic Studio
Rapid confirmation.
An exclusive tour of St Peter's Basilica and the Mosaic Studio with an experienced, qualified guide.
A fascinating opportunity to experience the wonders of the Vatican, with an informative guided tour of the Basilica of St Peters. You'll also visit the Mosaic Studio which is responsible for maintaining the wonderful mosaics of the cathedral and producing gifts for state leaders. You'll have a chance to appreciate some of the hidden wonders of the Vatican, including Bernini's 'Baldacchino' and Michelangelo's 'La Pietà'. The tour includes your reserved entrance and headsets. Entrance to the Sistine Chapel and other optional costs are not included.
The tour lasts roughly two and a half hours and is available in English, French, German and Italian. The minimum order is for two participants.
Please note that there is a strict dress code for the Vatican - shoulders and knees must be covered and low cut/sleeveless tops and shorts are not permitted for men or women. Clients that do not adhere to the dress code will not be permitted to enter the Vatican. Please also note that it is now mandatory to show an ID card or passport in order to take part in this tour - the Vatican Police (Gendarmeria) will need to see this ID.
It is obligatory to leave the following items outside: suitcases, backpacks and containers larger than 40 x 35 x 15 cm, bags and backpacks that jut out by more than 15 cm from the body, baby strollers/buggies, medium to large umbrellas, any umbrella with a spike, walking sticks (unless necessary due to disablement), tripods for cameras and video cameras, signs of any kind, knives, scissors, tools and any items that could be used to harm people or damage works of art.
It is forbidden to enter the Vatican with firearms or any kind of weapon.