Andrea Bocelli, Teatro del Silenzio, Tuscany
2020 Mailing List - sign up here.

The 2019 event sold-out in record time - be sure to sign up to our mailing list for the 2020 event and we'll let you know just as soon as there's any news on next year's event including, of course, notice of when tickets go on sale.
The Teatro del Silenzio (Theatre of Silence) is an open air amphitheatre located in a stunning position near tenor Andrea Bocelli's home town of Lajatico in Tuscany. The venue was created at Bocelli's suggestion and in July of every year typically hosts this performance, while for the rest of the year it lives up to its name and the stage area is transformed into a lake with a central platform where a series of sculptures have been exhibited. Year after year sees demand outstrip supply for this legendary event, so early booking is always recommended.
The 2019 edition is to be called 'Ali di Libertà' - Wings of Freedom' - and is trailed as a multi-sensory spectacular like none before, where Andrea and a host of international Belcanto singers will perform a range of operatic hits from the maestro's much loved repertoire of the past 20 years, all framed in a theme of flight, aspiration and freedom - see our blog post for further details.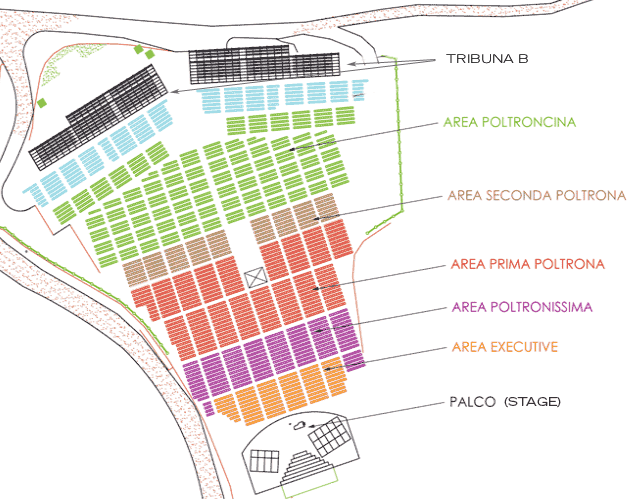 Please note that children under the age of six, when accompanied by a ticket-holding adult, do not need to pay, but they must not take up a seating space during the event. In the unlikely event of bad weather then the concert would be postponed (this has never happened to date!). For 2019, the concert on the 25th would be moved to the 26th, the one on the 27th would be moved to the 29th.
If you're interested in the 2020 edition, then please sign up for our 2020 mailing list.
HOW YOU'LL GET YOUR BOOKING CONFIRMATION:
To make reservations for a Bocelli concert all-in package, just fill out the booking form, supply us with credit card details, and we'll do the rest. Once we confirm your reservation we'll charge your card and then provide further details on your transport, accommodation and tickets, where appropriate. No cancellations or refunds are possible once order confirmation has been sent.