2019 details coming very soon!
The Teatro del Silenzio (Theatre of Silence) is an open air amphitheatre located in a stunning position near tenor Andrea Bocelli's home town of Lajatico in Tuscany. The venue was created at Bocelli's suggestion and in July of every year typically hosts this performance, while for the rest of the year it lives up to its name and the stage area is transformed into a lake with a central platform where a series of sculptures have been exhibited. Year after year sees demand outstrip supply for this legendary event, so early booking is always recommended.
If you're interested in the 2019 edition, then please sign up for our 2019 mailing list.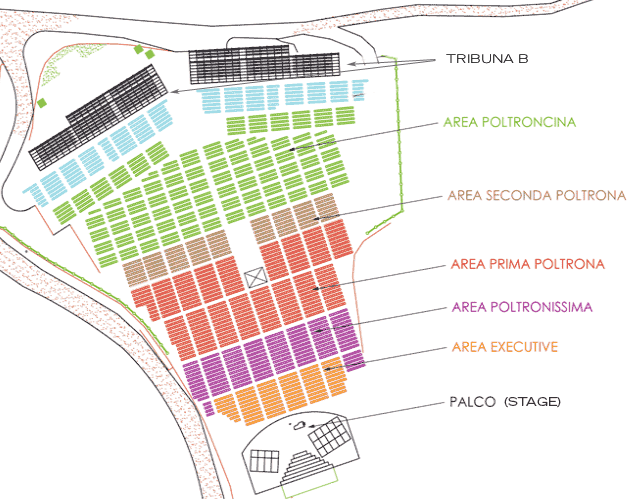 How to book package tickets for the magical outdoor Andrea Bocelli event in Tuscany
We're delighted to be offering our packages for the 2018 edition of 'Teatro del Silenzio'. As in past years, we do not sell standalone tickets, rather packages offering tickets alongside a mix of transport and accommodation options.
We've now added most of our accommodation packages, all listed below. Packages vary in cost according to both type of accommodation and type of ticket - all ticket types are referenced as per the seating plan above.
Please see below the details of the various packages on offer at the moment - we do update this page regularly, adding and removing packages as availability changes.
HOW YOU'LL GET YOUR BOOKING CONFIRMATION:
To make reservations for the Bocelli concert all-in package, just fill out the booking form, supply us with credit card details, and we'll do the rest. Once we confirm your reservation we'll charge your card and then provide further details on your transport, accommodation and tickets, where appropriate.
Please note that unlike the other sections, "Tribuna" seats are not assigned but will be filled on a first-come-first-served basis.