Tickets for the 2022 Verona Opera Festival are now available. Events will range from 17th June through to 4th September 2022.
If you book before the 24th of December you can save a fair few Euro on advance booking for most tickets (Poltronissime Platinum tickets and opening nights excluded) - from that date onwards prices will increase.
Giuseppe Verdi's opera in four acts, Aida is regularly performed at the Arena di Verona during the Summer opera season.
With an original story draft by Auguste Mariette, a scenario by Camille Du Locle and a libretto by Antonio Ghislanzoni, the reigning giant of Italian opera premiered his new work on Christmas Eve 1871 at the Cairo Opera House, with the European premiere to follow at the Scala in Milan the following February. Contrary to popular myth, Verdi did not compose the work for the opening of the Suez Canal, which had opened in 1869, though the opera house itself had been built in celebration of that engineering feat. (It was in fact Verdi's Rigoletto that opened the new opera house).
Aida encompasses all the glorious improbabilities of plot that we've come to expect from opera. The scene is Memphis in Egypt, at the time of the Pharaohs. Ethiopian princess Aida (daughter of Amonasro, King of Ethiopia) has been captured and is now a slave. Radames, a captain of the Egyptian guard struggles between his love for Aida and his loyalty to Pharaoh. More complications (but of course). Pharaoh's daughter Amneris cherishes an unreciprocated passion for Radames. The main protagonists, with their roles in the opera, are as follows:
Aida (soprano); Radames (tenor); Amneris (mezzo-soprano); Amonasro (baritone); Ramfis (bass), high priest of Egypt; King of Egypt (bass); High Priestess (soprano); messenger (tenor). There are also assorted ministers, soldiers, captains, slaves, priests, priestesses, Ethiopian prisoners and the Egyptian populace.
> Seating > Tips & practicalities > About the Operas > Transport & arrival > Introduction
In Act I we are in a hall in the Egyptian King's palace, with the Egyptians unaware that slave girl Aida is in fact the daughter of the King of Ethiopia. He, Amonasro, has led an army into Egypt to save Aida. The jealous Amneris is aware of the blooming love between Aida and Radames, and she persuades high priest Ramfis that Radames has been chosen by Isis to lead the forces against Amonasro. Dilemma is at the heart of opera and, of course, Aida is torn between love for her father and for Radames.
In Act II we are in Amneris's chamber. Amneris falsely tells Aida that Radames has been killed in battle, thus tricking Aida into declaring her love for him. Again Aida is torn: her father lives, but her love is 'dead'. But Radames returns in victory. The King of Egypt says that Radames may choose his prize. Enter the Ethiopian prisoners, King Amonasro (unrecognised by the Egyptians) among them. Amonasro says that the Ethiopian King has been killed in battle. Radames asks that the prisoners be freed, as a gift to Aida. The Egyptian King agrees and announces the betrothal of his daughter to Radames. The Ethiopians meanwhile remain hostage.
In Act III we are on the banks of the Nile, near the temple of Isis. Amonasro forces his daughter to learn from Radames the position of the Egyptian army. His love overcomes his sense and he does so. Amonasro reveals himself and flees; Radames is dishonoured and despairing. In Act IV, Radames is in prison. Amneris tries to save him but he rejects her and is sentenced to die. Aida has been hiding in the crypt and crawls into the tomb to die with her love. Amneris weeps.
Background
Verdi had taken his usual forceful role in the production of Aida. He tutored the singers at La Scala through their roles for the February 1872 debut at La Scala; he worked with the orchestra; he even selected the designer for the piece. Aida wasn't universally well received. Some critics found the opera an odd mix of old and modern but - in that highpoint of high opera, the late 19th century - Aida was a huge hit. In the next ten years it would play at 155 houses the world over. And, in a neat piece of history for us, it was the inaugural production at the first annual opera festival at the Arena di Verona in 1913. Aida was been a popular and critical hit ever since.
As we will physically send you your tickets (as opposed to a voucher via email), please be sure to order your Verona tickets independently; to put that another way, before completing this order, please ensure that your cart contains solely tickets for the Verona Opera Festival - other tickets will need to be ordered separately. Thank you.
Courier and handling charges
Your tickets will be delivered (from Italy) by courier service. Please note that the prices above don't include the handling charge and courier which will be added while you complete your order and before you enter payment details.
Current delivery charges are typically €20 Euro via courier*; shipping time is normally 2-3 working days. We also levy an agency handling charge on each ticket.
* This rate will apply to the vast majority of orders, especially from Europe or North America. On the (very rare) occasions when the destination is an area that falls under a special-rate courier band, tickitaly reserve the right to reflect this in an increased charge. We will always seek permission via email before making such charges.
Seating key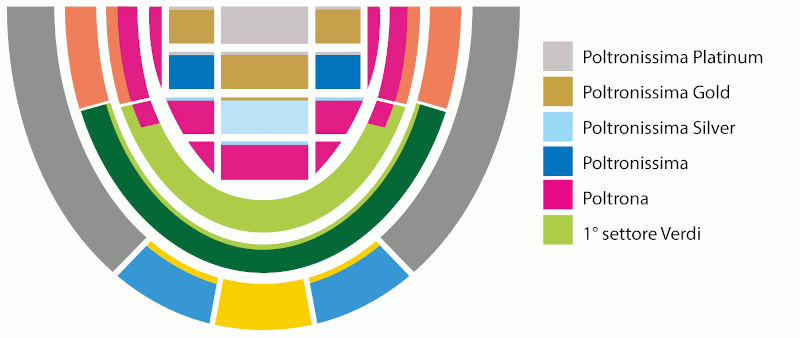 Click here to book your Opera and ticket type for the Verona Opera Festival (all)

Click here for information on ticket types, plus a seating plan for the Verona Arena