Tickets for the 2023 Verona Opera Festival are now available, with a wide range of performances premiering with Aida on the 16th June 2023 and ending with La Traviata on the 9th September 2023.


Giuseppe Verdi's La Traviata, composed in 1853 - an opera in 3 acts based on Alexander Dumas' The Lady of the Camelias.
When Giuseppe Verdi composed La Traviata in 1853 he was at the peak of his powers and of his success. Although only 40, he had 18 successful operas behind him, starting with Oberto, which had been stage at La Scala in Milan in 1839. The remarkably prolific Verdi (who was not averse to borrowing and reusing material from earlier works to maintain the prodigious output) had already produced two masterpieces of the repertoire in the previous two years ('Rigoletto' and 'Il Trovatore'). Rigoletto had been hugely controversial. The book was based on the play 'Le roi s'amuse' by Victor Hugo, a thinly veiled rubbishing of the character of Louis-Philippe, the last king to rule France. Verdi and his librettist Francesco Maria Piave had been forced to move the action in 'Rigoletto' from France to Mantua to appease the Austrian Board of Censors (Austria ruled much of northern Italy during the mid-19th century).
But the opera was a huge success, so Verdi was confident in taking on the similarly controversial subject matter of 'La Traviata' ('The lost one' or 'fallen woman'), based on 'La Dame aux Camelias' by Alexandre Dumas the younger. Our characters are: Violetta Valery, courtesan (soprano); Alfredo Germont, young nobleman (tenor); Giorgio Germont, Alfredo's father (baritone); Flora Bervoix (mezzo soprano); Annina (soprano); Gastone (tenor); Barone Douphol (baritone); Marchese d'Obigny (bass); Doctor Grenvil (bass); Giuseppe (tenor); Domestico di Flora (bass); Commissionario (bass).
The scene is Paris; the year 1700. In Act I we see Violetta Valery throwing a lavish party at her home to celebrate her recovery from illness. Gastone brings along Alfredo who has been angling to meet her for a year. He declares his love, but the sceptical Violetta hands him a camellia, telling him to return when the flower has died. The guests leave and Violetta ponders the possibility of a true love. She rejects it as unreal; she wants freedom to enjoy all life's pleasures.
In Act II we see the pair together in a country house outside the city. Violetta has fallen for the young nobleman after all, and renounced her former life. Alfredo leaves for Paris and in his absence his father comes to tell Violetta that she has destroyed his son's life (and the reputation of the boy's sister). Torn by guilt, she leaves Alfredo, saying she wants to return to her wild ways.
In Act III the starcrossed lovers meet at a party. Violetta is more dissipated than ever. Alfredo is distraught, believing she left him for another. He disgraces her by hurling money at her - payment he says for her favours while they lived together. Baron Douphol challenges Alfredo to a duel, for humiliating her. Violetta, faints, revives and professes her love for Alfredo.
In Act IV, Violetta is confined to bed with consumption. She receives a letter from Germont pere, saying that he has told Alfredo the truth about the sacrifice she made. Alfredo returns from exile (he wounded the Baron in the duel). He runs to her side, begs for forgiveness. She dies.
The story, unsurprisingly, evinced scandal when the opera premiered in 1850's Venice, and there were other problems too. Piave set his libretto in modern times, which baffled an audience used to 'period costume'. There was more. Graziani, who played Alfrdo, had lost his voice. Violetta was played by heavyweight soprano Salvini-Domatelli - who struggled to convince as a frail consumptive. But the experienced Verdi was a cool head (and numerous successful operas have had rocky starts). The opera was brought forward again a year later, with a revised cast dressed in 'period'. As for the scandalous subject matter? Verdi had no doubts: 'This is the theme of today. Maybe somebody, due to a foolish prejudice, would not venture to choose it, but I took it with great pleasure ... this is an extraordinary woman's life.' Verdi was ahead of his time, and 150 years on, La Traviata still delights, thrills and moves in equal measure.
Please note that an Agency handling fee per item will be added during checkout.
Seating key
Tickets marked as Poltrone (reduced) are only available for visitors under 30 years old or over 65 years old. Please note that you may be asked for a document proving your age in order to enter.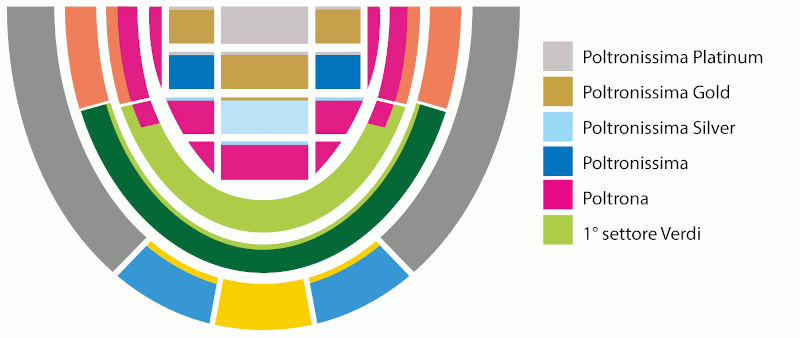 Click here for more information on ticket types for the Verona Arena

Click here to book your Opera and ticket type for the Verona Opera Festival (all)

Click here for information on ticket types, plus a seating plan for the Verona Arena