Tickets for the 2023 Verona Opera Festival are now available, with a wide range of performances premiering with Aida on the 16th June 2023 and ending with La Traviata on the 9th September 2023.


Like many of the most popular operas in the canon, the Barber of Seville (Il Barbiere di Siviglia) was based on an earlier play. Gioacchino Rossini premiered his 'opera buffa' or comic opera on 20 February 1816 at the Teatro Argentina in Rome. The original 'Figaro' trilogy, by Frenchman Pierre Beaumarchais, were first performed in Paris some 41 years before, at the Comedie Francaise. In the interim no less than two operas had already been produced from the story - the comic tale of intrigue, treachery, disguises, thwarted love and misunderstandings made for perfect comic opera material - and this was to lead to controversy and catcalls. Again, like many operas, Il Barbiere had a difficult birth before going on to establish it as a perennial favourite
The libretto of the Barber was penned by Roman poet Sterbini, who shared a house with Rossini for the duration of the work. Unsurprisingly, looking at his output, Rossini was a quick worker, and the music was completed in just three weeks (aided by the composer's freely acknowledged habit of borrowing music from his earlier operas). In this case, the overture was taken from Aureliano in Palmira.
The roles are as follows: Rosina, Bartolo's ward (lyric coloratura or mezzo soprano); Doctor Bartolo, Rosina's guardian (bass); Count Almaviva, a local nobleman, also under the alias Lindoro (tenor); Figaro, the Barber of Seville (baritone); Fiorello, the Count's servant; Basilio, Bartolo's accomplice, a music teacher (bass); Berta (Marcellina), servant to Doctor Bartolo (soprano); Ambrogio, servant to Doctor Bartolo (silent).
The story, in two acts, progresses thus. Count Almaviva has fallen in love with beautiful commoner Rosina while she visits Madrid. He pursues her back to Seville, but elects to disguise himself as a poor student. His plan is that she falls in love with him for himself, not for his money. The opera opens as Count and musical troupe serenade beneath Rosina's window. Figaro, the Count's former servant (and now the eponymous 'Barber of Seville') arrives. The Count values Figaro's quick brain and enlists his help. He explains he is in love with Rosina but is wooing in the guise of Lindoro. Figaro is Bartolo's barber and is confident he can get the pair into the house. Rosina drops a note to her admirer but Bartolo drags her inside and says he will marry her the very next day. Figaro comes up with a plan as gloriously improbable as one would expect from a comic opera. Almaviva will disguise himself as a drunken soldier and present Bartolo with a forged document ordering the doctor to quarter him in his house.
We move to Doctor Bartolo's study where Rosina is penning a letter to 'Lindoro'. Figaro arrives and hides himself when Bartolo and his sidekick the unscrupulous Basilio (Rosina's singing teacher) arrive. Basilio tells his friend that Almaviva is in Seville and is after the hand of Rosina. He proposes that they blacken the Count's name; the pragmatic Bartolo instead decides to marry Rosina forthwith. They leave. Figaro emerges to tell Rosina that her admirer is a penniless student but deeply in love with her. The overjoyed Rosina hands a letter to Figaro to give to 'Lindoro'.
Almaviva arrives in drunken guise. An argument erupts with Bartolo, who calls the police (but not before the 'drunk' and Rosina exchange furtive glances). The police arrest the Count but he covertly tells them his real identity. They release him, to the amazement of everybody. Confusion reigns.
In Act II Almaviva appears again, this time disguised as a singing tutor, claiming Basilio is ill. Bartolo is suspicious, but is mollified when the disguised Almaviva gives him the letter from Rosina to 'Lindoro', claming that he got it from a mistress of the Count, and that he plans to discredit the student. More confusion as Basilio arrives (though the Count swiftly bribes him and he withdraws again). Bartolo now shows Rosina the letter from 'Lindoro'; as he plans, she is enraged that her lover has passed her letter to another in so cavalier a fashion. She agrees to marry the doctor. In the nick of time, Almaviva appears with Figaro and reveals that Lindoro and he are one and the same. She falls into his arms. Even the doctor gives them his blessing.
Opening night
The opening night was chaos. One of the previous operas on the story had been written 36 years before by Paisiello, a living Italian composer. He was popular and his followers came along willing the piece to fail. Rossini was seen as young and arrogant. A series of pratfalls and missed entrances (and a cat being released on to the stage) evoked laughter in the wrong places and boos from the audience. Rossini complained (and also bemoaned the size of his fee) but he was a pretty cool customer. When the troupe went to his lodgings later to commiserate they found him happily snoozing. Second night was better, and the Barber is now a mainstay of the canon. Songs such as 'Ecco ridente il cielo', 'Una voce poco fa' and Figaro's 'Largo al Factoum' will probably be familiar to newcomers to the opera.
About the author
Gioacchino Antonio Rossini was born into a musical family in Pesaro (in Marche on the Italian Adriatic coast) in 1792. His father, a supporter of Napoleon's invasion of Italy, was sent to prison after the Emperor's removal. The family decamped to Bologna, and Gioachino received his early musical instruction from a harpsichord teacher named Prinetti. Prinetti whttps://productforums.google.com/forum/#!topicsearchin/gmail/apple$20bccas a limited musician, apparently playing his scales with two fingers, and frequently falling asleep at the keyboard. But somehow the boy learned to sight-read, play the piano, and sing well enough to take solo parts in the church choir. He entered the Bologna Conservatorio as a cello student. A free spirit he came into constant conflict with his teachers, with their prescriptive and formulaic approach to composition and counterpoint. Inspired by the freer approach of Mozart, Rossini was nicknamed 'il Tedeschino' (or the Little German).
Rossini was long-lived and extraordinarily prolific even by the standards of the time, producing more than 30 operas, cantatas, vocal and instrumental music and religious works. Rossini enjoyed a number of musical careers in fact. He debuted his first opera, La Cambiale di Matrimonio, aged just 18. Remarkably, he wrote the last of his 30 in 1829, while still in his thirties. His mother died in that year and, returning to his family in Bologna, he put his career on hold, shelving plans for an opera based on the Faust story. William Tell thus became his final opera, premiering in 1827. His work had made him wealthy and the man who had produced two operas a year during his twenties and thirties now entered semi retirement.
Please note that an Agency handling fee per item will be added during checkout.
Seating key
Tickets marked as Poltrone (reduced) are only available for visitors under 30 years old or over 65 years old. Please note that you may be asked for a document proving your age in order to enter.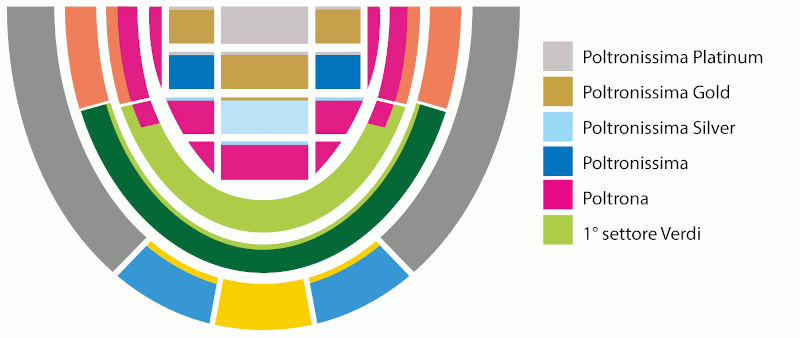 Click here for more information on ticket types for the Verona Arena

Click here to book your Opera and ticket type for the Verona Opera Festival (all)

Click here for information on ticket types, plus a seating plan for the Verona Arena