Tickets for the 2023 Verona Opera Festival are now available, with a wide range of performances premiering with Aida on the 16th June 2023 and ending with La Traviata on the 9th September 2023.


A regular feature of the Verona Opera programme, Carmen is an opera in four acts. Carmen made its European debut at the Opera-Comique in Paris on 3 March 1875, and its London debut at Her Majesty's Theatre on 5 February 1879. The music is by Georges Bizet, the libretto by Henri Meilhac and Ludovic Halévy, based on a novel by Prosper Merimée.
The beautiful Carmen (mezzo-soprano) works in a Seville cigarette factory (sometime in the 1820s). With her gypsy blood, she is wild, passionate, beautiful ... and a fatal siren to the men who surround her. Fickle and reckless, she attracts scores of men, but discards them quickly and casually. She is admired and liked by her fellow workers, the other girls in the factory, though there are undercurrents of jealousy in that no woman's man is safe when Carmen is around.
Her latest capture is Don Jose (tenor), a handsome corporal in the Spanish army, who has deserted his loyal and steady fiancee Micaela (soprano) for the femme fatale. Carmen treats him badly, casually, but so besotted is he that there is no escape. Micaela leaves her home and tracks Don Jose down in Seville, in a desparate attempt to win back his heart. She brings him a portrait of his mother and delivers a kiss that his mother has sent via her prospective daughter in law. Don Jose resolves to leave Carmen behind and return to the purity of his love with Micaela.
But Carmen has been arrested: a fight has broken out in the factory where she has been teasing another girl, ending up stabbing her. Carmen, flirting heavily with Don Jose, persuades the corporal to let her escape. The soldier is imprisoned for dereliction of duty but, as arranged, the pair meet up in an inn two months later. There we meet Carmen's gypsy friends Frasquita and Mercedes (soprano), and smugglers Dancairo (baritone) and Remendado (tenor), smugglers. Don José resolves to run away and join the band, ignoring his call back to duty.
Of course she soon tires of Don Jose and turns her attention to bullfighter, Escamillo (baritone). Micaela reappears, telling Don Jose that his mother is dying. Returning in sadness he swears to avenge himself on his unfaithful lover but is arrested and imprisoned for two months. The two men meet, have a knife fight, but Escamillo's blade breaks. Carmen stops Don Jose finishing Escamillo, who taunts the soldier by inviting him to watch him in action at the coming bullfight. Frasquita warns Carmen to stay away from the fight: the cards predict that she is to die, but the reckless Carmen ignores her.
At the bullfight, Don Jose begs her to come back but she humiliates him, hurling his ring to the floor. The insanely jealous Don Jose stabs her in the back, and is led away.
Other characters include Zuniga (bass), a lieutenant, and Morales (baritone), a corporal, plus soldiers, cigarette factory workers, townspeople and children.
Please note that an Agency handling fee per item will be added during checkout.
Seating key
Tickets marked as Poltrone (reduced) are only available for visitors under 30 years old or over 65 years old. Please note that you may be asked for a document proving your age in order to enter.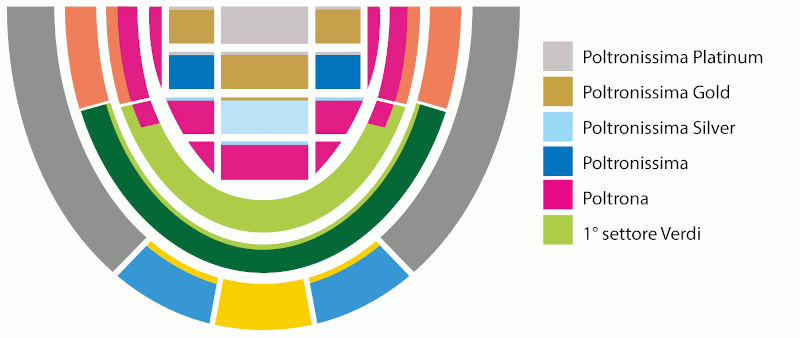 Click here for more information on ticket types for the Verona Arena

Click here to book your Opera and ticket type for the Verona Opera Festival (all)

Click here for information on ticket types, plus a seating plan for the Verona Arena