Tickets for the 2023 Verona Opera Festival are now available, with a wide range of performances premiering with Aida on the 16th June 2023 and ending with La Traviata on the 9th September 2023.


Giacomo Puccini's Madama Butterfly (Madame Butterfly), a mainstay of the Opera season at the Arena di Verona, is also one of the mainstays of the opera repertory. But Puccini's masterpiece had chequered beginnings.
Butterfly, with a libretto by Ilica and Giacosa, from the book by John Luther Long and the play by David Belasco, premiered on 17 February, 1904 at La Scala in Milan. The two-act opera was badly received and Puccini did a swift rework, splitting the long second act into two and making other tweaks. The retooled opera was a hit, and debuted at the Metropolitan Opera in New York City in 1907. Ever since, Madame Butterfly has been a mainstay of opera houses around the world.
The main characters are Madama Butterfly, or Cio-cio-san (soprano); Lieutenant Pinkerton of the US Navy (tenor); Sharpless, the US Consul to Nagasaki (baritone). We also have Suzuki, Butterfly's servant (mezzo-soprano); Kate Pinkerton (mezzo-soprano); Goro, a marriage broker (tenor); Prince Yamadori (tenor); Butterfly's uncle, The Bonze (bass); the Imperial Commissioner (bass). Other characters include the Official Registrar (baritone); Cio-cio-san's mother and aunt (mezzo-sopranos); her cousin (soprano); her mute child; and a chorus of relatives and sailors.
The year is 1904, the place Nagasaki. US naval lieutenant Pinkerton marries the 15-year-old geisha, Butterfly, the daughter of a disgraced samurai who had committed seppuku. The kindly US Consul begs Pinkerton not to go through with the ceremony, which Butterfly takes seriously (having renounced her own faith to marry an American) while he does not. Pinkerton laughs. Butterfly's uncle, a monk, arrives and chastises her for abandoning her faith, demanding that the other Japanese abandon her in turn.
Act II is three years on. Pinkerton's tour of duty is over and he returns to America, promising to return soon, and leaving his wife with a young son. Butterfly believes him, though her servant Suzuki fears they have been abandoned. Sure enough, he has taken an American wife, and asks Sharpless to relay the news to Butterfly via a letter. The Consul cannot bear to break her heart. Even when she reads the letter Butterfly retains her faith in Pinkerton, rejecting alternative suitors. The guns herald the arrival in port of US vessel the Abraham Lincoln. Butterfly and Suzuki deck the house with flowers to welcome Pinkerton home.
In Act III Pinkerton arrives with his American wife, Kate. He hasn't the courage to confront Butterfly and asks Kate to do it, and also ask Butterfly to give up their son to him. She quietly agrees, but asks that her husband come to see her in half an hour's time. Butterfly hugs her son and puts a blindfold over his eyes. She then stabs herself, and Pinkerton enters to find her dying, having mirrored her samurai father's death by seppuku.
Please note that an Agency handling fee per item will be added during checkout.
Seating key
Tickets marked as Poltrone (reduced) are only available for visitors under 30 years old or over 65 years old. Please note that you may be asked for a document proving your age in order to enter.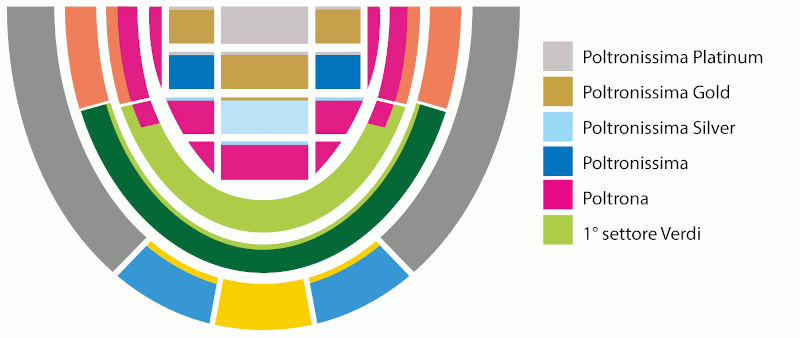 Click here for more information on ticket types for the Verona Arena

Click here to book your Opera and ticket type for the Verona Opera Festival (all)

Click here for information on ticket types, plus a seating plan for the Verona Arena