Tickets for the 2022 Verona Opera Festival are now available. Events will range from 17th June through to 4th September 2022.
If you book before the 24th of December you can save a fair few Euro on advance booking for most tickets (Poltronissime Platinum tickets and opening nights excluded) - from that date onwards prices will increase.
There is something peculiarly poignant about Turandot. For one, this last of Giacomo Puccini's operas was only premiered after the composer's death in 1924, and indeed this final work was unfinished. Secondly, unlike his precursors as the main man of Italian opera, this first great Italian composer of the 20th century was relatively unprolific. Verdi penned 37 operas between 1839 and 1893, while Rossini, with a production line efficiency, burned out 41 operas between 1810 and 1829 (alongside various cantatas and religious works). But while Rossini may have kept up the punishing workrate by freely and unashamedly plagiarising his own operas time and again, Puccini left a body of work of astonishing quality - revolving around the turn of the century when he produced, in succession, La Boheme, Tosca and Madame Butterfly.
By 1924, when an ailing Puccini was struggling to finish Turandot, he hadn't produced an opera for six years, having completed Il Trittico, a triptych of one-act operas, just before Christmas 1918. Like so many Italian operas of this grand era, Turandot was based on an older story. These maestros of the form drew greedily from such diverse writers as Shakespeare and Walter Scott, from Egypt, Ancient Rome and Japan, from history and myth. The story of Turandot was drawn from the Persian set of stories, the Book of One Thousand and One Days (not to be confused with the 'Thousand and One Nights').
The scene is Peking, where the Emperor announces that 'Any man who desires to wed [his daughter] Turandot must first answer her three riddles. If he fails, he will be beheaded.' The Prince of Persia has already failed and is to be beheaded at moonrise. The bloodthirsty crowd surge forward to catch a glimpse of the prince, but among their number is a beggar, a slave girl and another prince, all of them hiding their true identities. They meet, and the prince realises the beggar is his own father, the exiled King of Tartary. The prince curses Turandot's cruelty in not sparing the Prince of Persia, but catching sight of her he instantly falls in love. Despite the pleas of his father and Liu, the slave girl, he determines to take up the Emperor's challenge.
Act 2 opens with some comic relief courtesy of three courtiers (shades of 'The Mikado' here), then enter the Emperor who tries to talk the Prince of Tartary out of the challenge. Turandot reveals that her bloodthirsty ways are to avenge her grandmother, who was brutally murdered. Onto the quiz, and Turandot asks 'What is it that flies by night, that is born when the sun sets, and dies when it rises?' The prince answers 'Hope', correctly. Question Two asks 'What is it that dreams can kindle into flame, whose voice we tremble to hear, and which is the colour of the setting sun?' The prince answers 'Blood'. Right again. Now Question Three: 'What is it that, while it freezes, sets you on fire, which by setting you free makes you a slave, and by taking you as a slave makes you a king?' The prince replies 'It is you, Princess Turandot'.
He has her, and despite her protests a marriage is arranged. But, in one of the least convincing plot twists ever, allows her a chance to cancel the contract if she can guess his name. One can only say that Puccini was well past the peak of his powers and it's a rather lame way to get to Act 3. And in the final act we get one of the greatest opera arias of all time 'Nessun Dorma'. Enter the three comic courtiers again for more knockabout stuff, and then the guards appear, dragging the prince's dad and Liu. The two refuse to give up the prince's name (it's Calaf between you and me), but Liu admits her love for the prince and stabs herself in the heart.
Calaf and Turandot kiss, and she admits she loved him all along. He tells her his name and, fortunately, she doesn't hold him to his side of the bet. 'I know the name of the stranger, it is Love' says Turandot to her father. Curtain down.
It's always a good idea to get up to speed with the piece before enjoying it live, and there are plenty of fine recordings, from the antique (Franco Ghione conducting the RAI Chorus and Orchestra in Turin, back in 1938), to the marvellous Zubin Mehta leading the Teatro del Maggio Musicale Fiorentino Fondazione in 1998. Those who like a familiar voice to lead them in might try James Levine's recording at the Met in 1998 with Placido Domingo, or Jose Carreras and Montserrat Caballe from 1977 with the Strasbourg Philharmonic. Whichever, there are lots of fine performances on CD to choose from.
As we will physically send you your tickets (as opposed to a voucher via email), please be sure to order your Verona tickets independently; to put that another way, before completing this order, please ensure that your cart contains solely tickets for the Verona Opera Festival - other tickets will need to be ordered separately. Thank you.
Courier and handling charges
Your tickets will be delivered (from Italy) by courier service. Please note that the prices above don't include the handling charge and courier which will be added while you complete your order and before you enter payment details.
Current delivery charges are typically €20 Euro via courier*; shipping time is normally 2-3 working days. We also levy an agency handling charge on each ticket.
* This rate will apply to the vast majority of orders, especially from Europe or North America. On the (very rare) occasions when the destination is an area that falls under a special-rate courier band, tickitaly reserve the right to reflect this in an increased charge. We will always seek permission via email before making such charges.
Seating key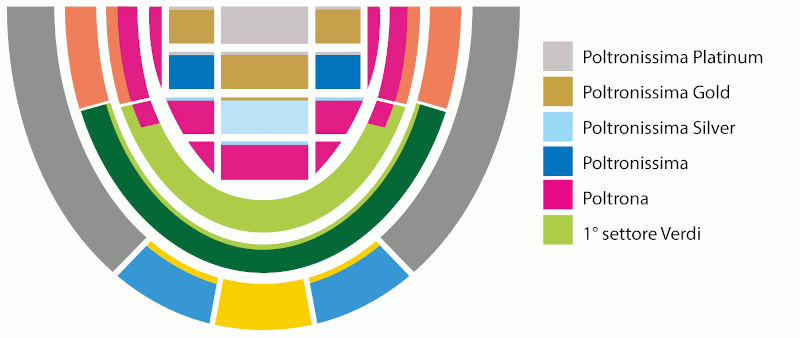 Click here to book your Opera and ticket type for the Verona Opera Festival (all)

Click here for information on ticket types, plus a seating plan for the Verona Arena