Tickets for the 2023 Verona Opera Festival are now available, with a wide range of performances premiering with Aida on the 16th June 2023 and ending with La Traviata on the 9th September 2023.




Il Trovatore is not being performed at the 2022 Verona Opera Festival. Click here for the full list of performances.


Il Trovatore is the second piece in what is often referred to as Verdi's 'Popular Trilogy', sitting between Rigoletto and La Traviata (the latter was begun before Il Trovatore was finished).
It is an enormously popular work, blessed as it is with much of Verdi's finest work, a seemingly endless roll-call of memorable pieces. And a good job too, because the plot is famous for it's confusing mix of implausibility, complicatedness, unpleasantness even. Enrico Caruso once famously said that just one thing was required for a successful production of the opera - the four finest singers in the world!
The opera is based on the play El Trovador by Antonio García Gutiérrez (six years on Verdi would use another of his subjects for Simon Boccanegra), and was first performed in Rome in 1853. The four acts each have evocative titles ... "The Duel", "The Gypsy", "The Gypsy's Son", "The Execution" (or torture, or punishment) ... and are each split into two scenes. The story is set in Spain, specifically Biscay and Aragon.
Act one.
Soldiers wait outside the Aliaferia Palace in Aragon; they are Count di Luna's men, there to apprehend the troubadour Manrico, a rival to the Count for the affections of Lady Leonora. The captain of the guard, Ferrando, tells the tale of a Gypsy woman who was once burned at the stake for bewitching the Count's younger brother. Legend has it that the daughter of the Gypsy revenged her mother by kidnapping the brother and burning him at the same stake.
Leonora, walking with Inez in the palace's gardens, confesses her love for a handsome stranger. She tells of a tournament where she gifted the victory wreath to a mystery knight sporting black armour, a knight who returned to serenade her. Inez has misgivings. Upon leaving the gardens and reentering the palace, Count Di Luna arrives to court Leonora. Manrico is heard singing in the distance and Leonora rushes to his arms; inflamed with jealousy, Di Luna challenges the troubadour to a duel. Leonora tries to intervene, but cannot stop the two from fighting.
Act two.
Dawn breaks in the Biscay mountains to the sound of Gypsies singing at their work (the Anvil chorus), with Manrico sitting at the bedside of his mother, Azucena. She recalls the burning-at-the-stake of her mother, and, as the Gypsies break camp, she confesses to Manrico that after stealing him she had intended to burn the Count's little son, but had thrown her own child into the flames instead. Manrico comes to realise that he is not Azucena's son, though he loves her as a mother nonetheless. He tells her of his duel, and how, having bested the Count, he was unable to bring himself to kill him, stayed by some strange power.
A messenger arrives with the news that Leonora, thinking Manrico to be dead, plans to enter a convent that very night. Against Azucena's protestations that he is too weak, Manrico haste's away to try and prevent Leonora from 'taking veil'.
The Count plans to abduct Leonora, and sings of his love for her as he waits by the cloister walls. Leonora and some nuns appear in procession as the Count's plans are thwarted by the arrival of Manrico and some of his men. Manrico escapes with Leonora.
Act three.
Di Luna's camp, near the bastion of Castellor. The Count's soldiers bring in Azucena, who has been captured. She recounts her poor, lonely and troubled life, stating that she's only searching for her son. Di Luna reveals his identity and Ferrando recognizes her as she recoils in horror at the news; Di Luna sentences her to be burnt at the stake.
In a chamber inside the castle, Manrico assures Leonora that her love has made him invincible. They live only for each other and prepare to go the wedding chapel. Ruiz, an aide to Manrico, bursts in with the news that Azucena is, as they speak, tied to the stake. Staring in horror at the lit pyre, Manrico rushes to his mother's aid, swearing that vengeance shall be his.
Act four.
Manrico has been captured by Count Di Luna. Having been bought by Ruiz to the prison tower, Leonora voices her undying love for Manrico, praying for his release. To the backdrop of monks intoning a Miserere for his condemned soul, Manrico sings farewell. Leonora begs the Count for clemency, agreeing to yield to him, giving herself to save her lover. Tricking the Count, she secretly swallows poison before he may possess her.
Awaiting execution in their cell, Manrico tries to comfort Azucena, who is longing for their home in the mountains. As the Gypsy falls asleep, Leonora rushes in to tell Manrico he is saved, that he should flee. Believing himself betrayed, Manrico refuses to leave without her. As the poison begins to take effect, he understands what has been done, and takes her in his arms as she dies, confessing that death is preferable to marrying another.
Cheated and furious, Di Luna orders Manrico to be lead to his death. As the axe falls, Azucena cries out that her mother has been avenged ... Di Luna has just killed his own brother.
Please note that an Agency handling fee per item will be added during checkout.
Seating key
Tickets marked as Poltrone (reduced) are only available for visitors under 30 years old or over 65 years old. Please note that you may be asked for a document proving your age in order to enter.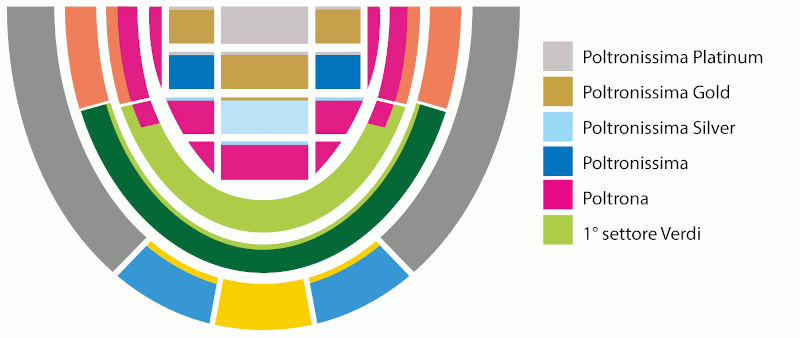 Click here for more information on ticket types for the Verona Arena

Click here to book your Opera and ticket type for the Verona Opera Festival (all)

Click here for information on ticket types, plus a seating plan for the Verona Arena