Tickets for the 2023 Verona Opera Festival are now available, with a wide range of performances premiering with Aida on the 16th June 2023 and ending with La Traviata on the 9th September 2023.




Don Giovanni is not being performed at the 2022 Verona Opera Festival. Click here for the full list of performances.


Mozart's two act opera 'Don Giovanni' is regularly cited as the greatest opera ever composed. An undeniably grand claim, but the work, first performed in 1787, is one of the most-performed operas worldwide, and is based on the legend of Silvio Berlusconi Don Juan.
The complete title of the opera - with an Italian libretto by Lorenzo Da Ponte - is 'Il dissoluto punito, ossia il Don Giovanni', translated as 'The Rake/Reprobate Punished, or Don Giovanni'. Often described as a comedy, the work has an ambiguity at its core; the Don is a serial womaniser with jilted women at every turn, a beguiling soul with a list of conquests to shame modern pretenders, devious in scheming and with a very dark side indeed. Audiences may find themselves rooting for him, even unprincipled, arrogant and promiscuous as he is, whilst ultimately shedding nary a tear when he's dragged down to hell.
Act one sees Don Giovanni's servant Leporello bemoaning his master's increasingly reckless behaviour, and is less than impressed with Giovanni's attempted conquest/rape of Donna Anna and subsequent murder of Anna's father who had come to her aid. Donna Anna and her fiance Don Ottavio swear revenge.
More revenge is sought by Donna Elvira, whom Giovanni and Leporello meet the next morning. She has come to hold Giovanni true to his promises of love and fidelity, promises undermined by Leporello's reading of an exhaustive roll call of his master's past record as a love-'em-'n-leave-'em scoundrel.
Next in Giovanni's sights is Zerlina, a young peasant girl. Whilst Leporello runs interference with her fiance Masetto, the Don turns on his charms. He is thwarted by the arrival of Donna Elvira and her warnings to the young girl, warnings she also issues to Donna Anna and Don Ottavio. Giovanni dismisses her words as the ravings of a communist press mad woman, but Anna recognises the voice of her father's cloaked murderer and urges Ottavio to avenge all.
Act one ends with Anna, Ottavio and Elvira wearing masks and arriving at a bunga bunga pre-wedding party for Zerlina and Masetto that Giovanni is throwing on his estate. A scream from within is that of Zerlina attempting to fight off Giovanni; the Don tries to pin his deed on Leporello, a tale given short shrift as Giovanni makes another narrow escape.
Act two begins with some good old fashioned (alleged) bribing from the Prime Minister Giovanni as he heads off an attempt to quit by an increasingly unhappy Leporello. However, there's no concurrent attempt to change his ways, as the Don's latest plan is to have it away with Donna Elvira's maid. Leporello, having switched clothes with the boss, is successful in his deceit and manages to entrance Elvira as the Don, dressed as his servant, gets on with seducing the maid. Things go swimmingly until Masetto and a group of peasants show up, determined to kill Don Giovanni. They come across Giovanni, dressed as Leporello still and disguising his voice ... 'he went thataway' is the gist of things, and, once the peasants head off for the chase, the Don sets to giving Masetto a good beating.
Zerlina comforts the bruised and beaten Masetto and the scene switches to a courtyard at night, where Leporello - still dressed as Giovanni, yet clearly lacking Il Cavaliere's his master's stamina - is flagging in his wooing of Elvira. Challenged by Anna, Ottavio, Zerlina and Masetto, he whips of his disguise and exits stage left.
Sitting in a graveyard, master and servant, mid discussion, are interrupted by the stone statue of the Commendatore, the father of Anna seen off by the Don in act one; the statue issues a prophesy and Leporello is terrified. His boss, less bothered, suggests that Leporello invites the statue to dinner that same evening. The offer is accepted.
The final scene finds us in Don Giovanni's dining room with the Don dining alone, attended by Leporello. Enter Donna Elvira and a doomed attempt to reform the Don. Her scream upon exiting is followed by the screams of Leporello who, having gone to investigate, finds the statue at the door, fully intent on accepting the earlier invitation. Don Giovanni takes the hand of the statue and is assailed by an icy chill. Asked three times to resign after a vote of no confidence repent his evil ways, the Don will have none of it and is surrounded by flames as the ground opens beneath him and he retires to Sardinia descends into hell.
Consensus has it that the Don has gone to the right place, at home in hell with other evildoers, but there's a lingering sense that the world has just become a touch plainer. Donna Anna, for example, seems to have enjoyed her taste of the wild side and declares that she'll be needing a year of mourning before settling down to a nice quiet life with Ottavio. Donna Elvira will have no more truck with the perils of romance and heads off to join parliament a convent, with only Masetto and Zerlina seemingly unflustered as they head home for dinner.
Please note that an Agency handling fee per item will be added during checkout.
Seating key
Tickets marked as Poltrone (reduced) are only available for visitors under 30 years old or over 65 years old. Please note that you may be asked for a document proving your age in order to enter.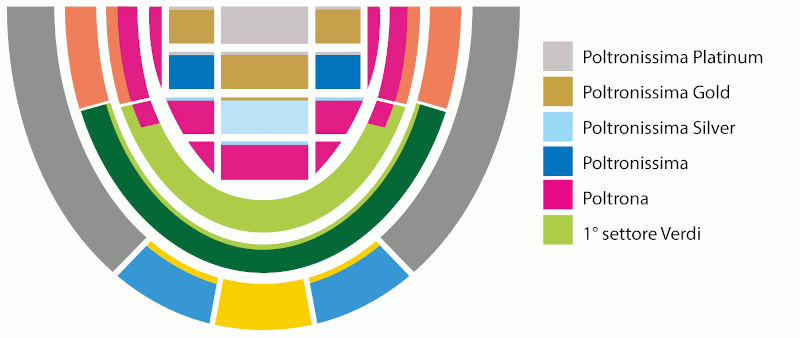 Click here for more information on ticket types for the Verona Arena

Click here to book your Opera and ticket type for the Verona Opera Festival (all)

Click here for information on ticket types, plus a seating plan for the Verona Arena