Tickets for the 2023 Verona Opera Festival are now available, with a wide range of performances premiering with Aida on the 16th June 2023 and ending with La Traviata on the 9th September 2023.


Cavalleria Rusticana partly inspired Pagliacci, and these two examples of 'opera verismo' (opera of truth) are often performed together. With music by Pietro Mascagni and a libretto by Targioni and Tozzetti from a short story by Giovanni Verga, Cavalleria Rusticana (Rustic Cavalry) premiered on 17 May, 1890 at Rome's Teatro Costanzi. You may also know the music from its use in Godfather III.
I Pagliacci is a fine and dramatic piece of work, with the pair the classic examples of the new 'Verismo' style of opera that emerged in Italy toward the end of the 19th century. Cavelleria Rusticana (1890 by Mascagni) and Pagliacci (1892 by Leoncavallo) are regularly presented together during the Verona Opera Season at the Arena di Verona.
Cavalleria Rusticana
With music by Pietro Mascagni and a libretto by Targioni and Tozzetti from a short story by Giovanni Verga, Cavalleria Rusticana (Rustic Cavalry) premiered on 17 May, 1890 at Rome's Teatro Costanzi. You may also know the music from its use in Godfather III.
This opera in one act begins in a Sicilian village, sometime in the late 1800s. It is Easter Day and the townspeople are gathering for Mass at the church. Our characters are Santuzza, a young peasant (soprano); Turiddu, a young farmer (tenor); his mother Lucia (alto); Alfio, a servant (baritone); Alfio's wife Lola (mezzo-soprano).
Santuzza asks Lucia what has become of her lover Turiddu, who has left her for Lola. Lucia says that her son is merely away buying wine, but Santuzza knows better. Lola had been his love before he joined the army, but returned to find her married to Alfio. Angry, he turned to Santuzza, but the jealous Lola then lured him back. Santuzza confronts Turiddu at the church, but he throws her aside and enters the Mass with Lola. A furious Santuzza tells Alfio about his wife's infidelity. Alfio challenges Turridu to a duel with knives (very Sicilian) and the young farmer is slain. The opera ends.
I Pagliacci
Italian opera had been through many incarnations by the time Leoncavallo penned his masterpiece in 1892. We had developed from the earliest sung theatre of Monteverdi, through Opera Buffa (Comic Opera) and Opera Seria (Serious Opera) and the 19th century Bel Canto (beautiful singing) traditions. Now, in the wake of the groundbreaking work of Wagner in Germany, the Italians were tackling 'realistic' themes, though in their way these operas were just as narrow as the comic trifles they replaced, seemingly seeing life as an amalgam of crime, sexual predation, betrayal and, inevitably, murder.
Realism was the aim of a new school of Italian composers towards the end of the 19th Century. This 'realism' was as narrow in its own way as the style it replaced, concentrating on criminal, violent lowlife and crimes of passion. Two classic Opera Verismo works are (1890) by Mascagni and Pagliacci (1892) by Leoncavallo. The last great Italian composer, Puccini, was strongly influenced by Verismo in works such as Tosca (1900). The typically harsh and even sadistic treatment of his heroines was controversial at the time, but his work remains enduringly popular. The star of Italian opera of the day, Giacomo Puccini, had penned his own Opera Verismo in Tosca, and Leoncavallo had collaborated with the great man on the libretto of Manon Lescaut.
Leoncavallo was a writer of words as well as music then (and he composed music and libretto for I Pagliacci). In the light of Mascagni's success with Cavalleria Rusticana, he decided pen his own Verismo - this one inspired by an 1899 court case. The result is brutal and tragic, set around a troupe of travelling players in Sicily, southern Italy. The double-crossing and set-ups central to opera abound, and there is a fascinating blurring of the lines between the actors in I Pagliacci and the characters they assume in the play within a play. Act I sees the preparations for the Commedia dell'Arte; Act II the play itself, with all characters assuming their roles in the play.
The scene in Act I is the village of Calabria, Sicily; the date The Feast of the Assumption circa 1870. The group of players arrives to perform a comic play. Our characters are Canio (tenor), leader of the troupe and a clown in the Commedia dell'Arte (Pagliacci means 'Clowns'); Nedda his wife (soprano), who plays Columbina in Act II; Tonio (Taddeo in Act II, tenor), Beppe (tenor) who plays Arlecchino in Act II; Tonio (baritone), who plays Arlecchino in Act II; Silvio, a young peasant (baritone). Canio whips up an audience for the play among the townspeople of Calabria, and retires to the inn for a drink. The hunchback Tonio declares his love for Canio's wife, Nedda. She rebuffs him, eventually defending herself with a whip. The bitter Tonio swears revenge; he then overhears Nedda and the young Silvio plotting to run away together. He calls Canio and Beppe but Silvio escape.
In Act II the play begins, exactly mirroring real life. Taddeo's avowal of love for Columbine is rejected, as she chooses Harlequin. Canio/Pagliaccio realises his wife has been unfaithful and demands /NeddaColumbine reveal her lover's name. Now it becomes obvious to the audience that this is no mere acting, that art and life are mingling. She says she will never reveal her lover's name and Canio, dressed as the Clown, stabs her. She calls Silvio's name and as he rushes forward he too is killed by Canio. The comedy draws to a close.
Please note that an Agency handling fee per item will be added during checkout.
Seating key
Tickets marked as Poltrone (reduced) are only available for visitors under 30 years old or over 65 years old. Please note that you may be asked for a document proving your age in order to enter.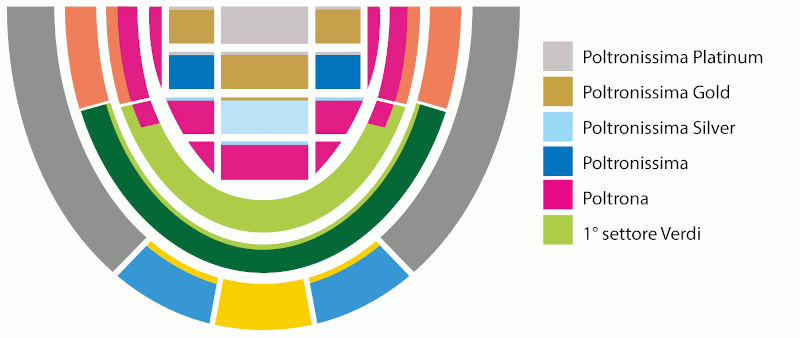 Click here for more information on ticket types for the Verona Arena
> Seating > Tips & practicalities > About the Operas > Transport & arrival

Click here to book your Opera and ticket type for the Verona Opera Festival (all)

Click here for information on ticket types, plus a seating plan for the Verona Arena