Click here to select and book your Opera and ticket type for the Verona Opera Festival
The Verona Opera Festival - ticket types and a guide to seating arrangements in the arena
Every year, come Verona Opera Festival time, the arena is transformed into a homage to Verdi, Puccini, Mascagni, Bizet, Strauss, Donizetti - and scaffolding. The floor of the arena is turned into a gentle, stage-sloping platform, as is the lower half of the outer stone steps, and both of these areas are covered in 'proper' chairs with backs to them.
The best seats in the house are marked in gold and blue on the plan below, and are sold as 'Poltronissime'. The 'Potronissime Gold' occupy the central seats of the first 20 rows. The seats marked in pink on the plan are still on the main floor of the arena, albeit slightly more peripheral - these are sold as 'Poltrone'.
The seats marked in orange on the plan (sold as 'Gradinata Numerata 1') are found on the first tier of the surrounding steps. Again, these are proper seats, with backs, ranging up from the arena floor. The seats marked in dark green and on sale as 'Gradinata Numerata 2' are the same thing again, just with a slightly less centred view of proceedings, and the peripheral 'Gradinata Numerata 3' seats are marked in light green.
The higher stone galleries (not coloured in the plan) is the non-reserved area, where you sit straight onto the stone seating (hence the cushion rentals) - tickitaly are currently not selling tickets for this area of the arena.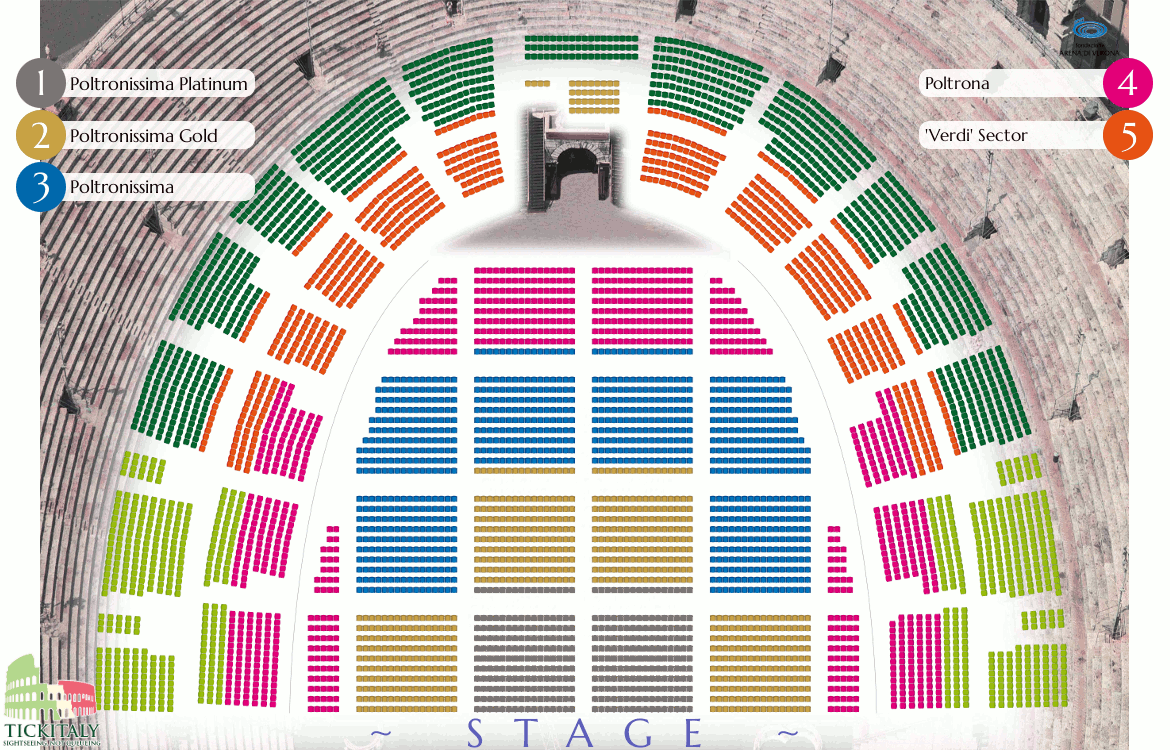 > Seating > Tips & practicalities > About the Operas > Transport & arrival > Introduction
Click here to select and book your Opera and ticket type for the Verona Opera Festival