Tickets for the 2022 Verona Opera Festival are now available. Events will range from 17th June through to 4th September 2022.
If you book before the 24th of December you can save a fair few Euro on advance booking for most tickets (Poltronissime Platinum tickets and opening nights excluded) - from that date onwards prices will increase.


Tosca is not being performed at the 2022 Verona Opera Festival. Click here for the full list of performances.


Tosca, regularly part of the summer Verona opera season at the Arena di Verona, is an opera in three acts. Composed by Giacomo Puccini, the Italian libretto is by Luigi Illica and Giuseppe Giacosa, and was based on a play, La Tosca, by Victorien Sardou. It was first performed in Rome in 1900.
The time is Rome, the year 1800. The characters are Floria Tosca, an opera singer (soprano); Mario Cavaradossi, a painter (tenor); Baron Scarpia, chief of the Roman police (baritone); Cesare Angelotti, leader of the Republicans (bass); a Sacristan (baritone); Spoletta, a police agent (tenor); Sciarrone, Baron Scarpia's servant (bass); a shepherd boy (treble); a jailor (bass); the Chorus in made up of citizens, ladies, police agents, choirboys and soldiers.
Tosca is a superb opera of complex themes, with religion and politics at its heart. Giacomo Puccini was no conventional believer though, harbouring serious reservations about the Catholic Church. He was though, an Italian, and religion pervaded every area of Italian life. The Puccini family included several church musicians; as a youth, Puccini himself played the organ in Lucca Cathedral. And he had devout friends, including a number of priests. The Church though, harboured doubts about the composer, considering him a heretic.
Politics is the other strand in Tosca. Sardou's play weaves in the Battle of Marengo, Napoleon and Queen Caroline of Naples. Puccini and his librettists then spin a complex tale of religious belief played out against the dramatic political foment that shook 19th century Europe. Puccini composed lush melodies for the piece, drawing on the devotional music he knew (and indeed the sound of church bells chimes through the piece). The whole is underpinned by a dramatically strong story, with an enthralling plot.
In Act I, Angelotti (a political dissident) is on the run from the police and seeks refuge in his family church. His sister, the Marchesa Attavanti, has been praying here for her brother's freedom. Unknown to her, painter Mario Cavaradossi (an old friend of Angelotti) has used her as a model for his painting of Mary Magdalen. The painter takes a miniature from his pocket, (bearing a portrait of his lover, the singer Tosca) and compares her to the Marchesa. Tosca arrives, realises the painting is the Marchesa and angrily demands that it be made more like herself. The painter hurries Angelotti to a safe haven in his villa. The Sacristan arrives to tell of Napoleon's defeat at Marengo, but their celebrations are halted by the arrival of Scarpia (feared chief of police). Scarpia manipulates Tosca's jealousy, hinting at an affair between the Marchesa and Cavaradossi.
In Act II, Scarpia plans to trap the painter and have Tosca for himself. Police agent Spoletta arrives having failed to capture Angelotti but with Cavaradossi under arrest. Tosca knows that Scarpia was lying about the affair. When the painter is tortured, she reveals Angelotti's hiding place. Scarpia says he will spare Mario if Tosca will become his lover. He will then allow them both to escape Rome, but he must organise a mock execution to make it appear he has dealt with Mario. Spoletta then enters to say that Angelotti has committed suicide as he was about to be arrested. Tosca agrees to Scarpia's sexual demands, but as he comes towards her, she stabs and kills him.
In Act III Cavaradossi sits in prison, awaiting his execution. Tosca enters and tells him that Scarpia is dead, but that he has arranged this mock execution, after which the pair will escape Rome. The painter is led to the firing squad. They fire; Tosca congratulates Mario on his convincing play at death, but as the soldiers leave she realises that he has really perished. She jumps to her death from the ramparts of the castle.
As we will physically send you your tickets (as opposed to a voucher via email), please be sure to order your Verona tickets independently; to put that another way, before completing this order, please ensure that your cart contains solely tickets for the Verona Opera Festival - other tickets will need to be ordered separately. Thank you.
Courier and handling charges
Your tickets will be delivered (from Italy) by courier service. Please note that the prices above don't include the handling charge and courier which will be added while you complete your order and before you enter payment details.
Current delivery charges are typically €20 Euro via courier*; shipping time is normally 2-3 working days. We also levy an agency handling charge on each ticket.
* This rate will apply to the vast majority of orders, especially from Europe or North America. On the (very rare) occasions when the destination is an area that falls under a special-rate courier band, tickitaly reserve the right to reflect this in an increased charge. We will always seek permission via email before making such charges.
Seating key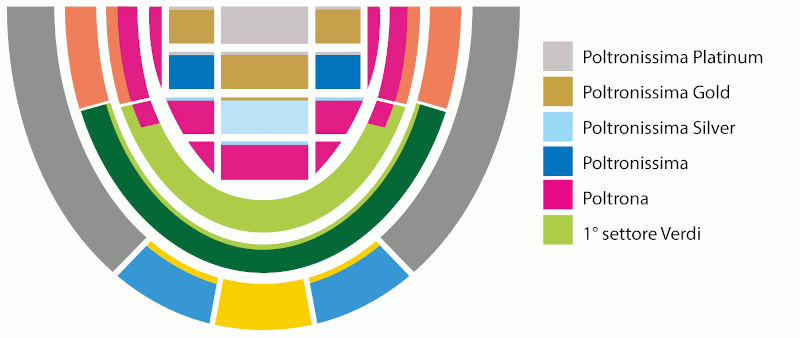 > Seating > Tips & practicalities > About the Operas > Transport & arrival

Click here to book your Opera and ticket type for the Verona Opera Festival (all)

Click here for information on ticket types, plus a seating plan for the Verona Arena