Tickets for the 2023 Verona Opera Festival are now available, with a wide range of performances premiering with Aida on the 16th June 2023 and ending with La Traviata on the 9th September 2023.


Rigoletto came in the astonishing middle period of this most prolific of Italian opera composers. Giuseppe Fortunino Francesco Verdi was an astonishingly prolific composer (turning out 28 performed operas over 54 years), and in the early 1850s hit a purple patch which produced Rigoletto, Il Trovatore and La Traviata. Rigoletto demonstrates the maestro's flair for drama and spectacle and his ear for a great tune. The hummability of Verdi arias elicited sniffs of snobbery from critics at the time (who also quibbled with the melodrama of the storylines) but it plays a large part in Verdi's operas being among the most-staged to this day.
This then is a hit that's been running for a century and a half. The libretto is based on Victor Hugo's play 'Le roi s'amuse', and here we also see Verdi's talent for controversy and for tilts at authority. In a Europe terrified of republicanism, and with many of the crowned heads only just hanging onto their crowns, a subject matter that mocked a king was dangerous stuff. The Austrian censors, who controlled Verdi's home ground of northern Italy (and the opera was of course slated to be premiered at La Scala in Milan) initially tried to get the production stopped. In the face of the tenacious Verdi, an old hand by now who was prepared to argue and negotiate on every word of the libretto to get his way, the censors eventually let the story through. The main character was no longer a king of mainland Europe but a monarch in an unnamed Italian duchy. So ... what was this story that created such a fuss?
Our characters are Rigoletto, the Duke's hunchbacked jester (baritone); Gilda, his daughter (soprano); the Duke (tenor); Sparafucile, an assassin (bass); Sparafucile's sister, Maddalena (contralto); Gilda's nurse, Giovanna (mezzo soprano); Count Ceprano (bass); Countess Ceprano (mezzo soprano); Matteo Borsa, courtier (tenor); Count Monterone (baritone); Marullo (baritone); a Court Usher (bass); a Page (mezzo-soprano).
Our cast intact, our story starts in Act 1, as the Duke has seen a mysterious beauty in church. He must possess her but also wants to seduce Countess Ceprano. Rigoletto mocks the cuckolded husbands and tells the Duke to either kill or jail his rivals. Count Monterone is furious, having had a daughter dishonoured by the Duke. He curses the Duke and Rigoletto. Sparafucile offers to kill Monterone and thus rid Rigoletto of the curse - the jester ponders how he uses his wit to destroy his enemies, while Sparafucile uses the sword. Rigoletto returns home to daughter Gilda, who doesn't know her father's job (improbable, but this is opera). She has fallen in love with the promiscuous Duke, (though she doesn't know who he is). The Duke enters, professes his love in return. His wicked ways have been expunged by the love of a good woman. But this is opera as we've said, and things are NEVER that simple. Rigoletto has offended too many people over the years with his sharp tongue, sure in the knowledge that he is protected as the Duke's favourite. But his comeuppance is due. A group of courtiers at this house see Gilda and believe she is the jester's lover. They trick Rigoletto into kidnapping her for them (pretending that their target is Countess Ceprano). Too late he realises he has been duped. 'The curse!' he cries.
In Act 2, the nobles tell the Duke they have captured the jester's mistress, but he soon realises it's Gilda. He rushes to her and offers to give up his riches for her love. Rigoletto enters, and Gilda admits she is ashamed that her father is a jester. Rigoletto vows to kill the Duke, who he assumes will dishonour Gilda, as he has so many others. Gilda pleads for her lover.
In Act 3, Gilda spies the Duke drunk, in a tavern, canoodling with Sparafucile's sister, and partner in crime, Maddalena. Feeling sorry for himself he performs one of the show's great arias 'La Donna e mobile'. Rigoletto offers the assassin money to kill the Duke. He also tells his daughter to dress as a man and head off to Verona (he will join her there later). Gilda returns to the tavern and overhears Maddalena pleading for the Duke's life. 'Yes, if someone can take his place,' agrees Sparafucile. The love-crazed Gilda takes up the offer, enters the house and is stabbed in the Duke's stead. Rigoletto arrives with the money, opens a sack to find the expiring Gilda and exclaims 'The Curse!'
Now this probably isn't a plot a Hollywood screenwriter would attempt to get away with now. A few holes? A touch unlikely? But it still delivers extraordinary drama and power, and can rouse tears from the hardest of hearts. Notable arias include: 'Questa o quella' from the Duke in Act 1, 'Tutte le feste al tempio, from Gilda in Act 2, and 'Un dì, se ben rammentomi ... Bella figlia dell'amore', from the Duke, Rigoletto, Gilda and Maddalena in Act 3.
Please note that an Agency handling fee per item will be added during checkout.
Seating key
Tickets marked as Poltrone (reduced) are only available for visitors under 30 years old or over 65 years old. Please note that you may be asked for a document proving your age in order to enter.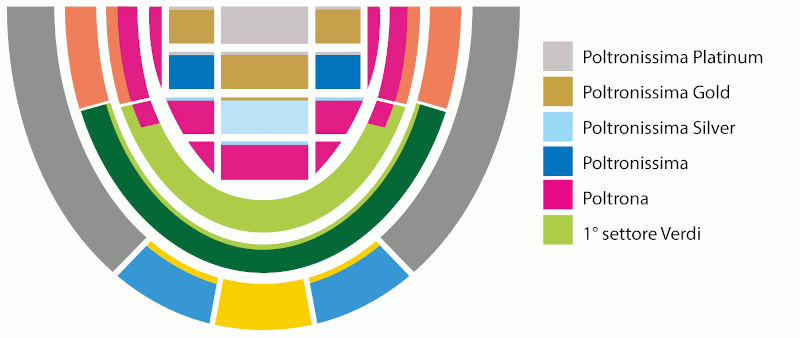 Click here for more information on ticket types for the Verona Arena
> Seating > Tips & practicalities > About the Operas > Transport & arrival > Introduction

Click here to book your Opera and ticket type for the Verona Opera Festival (all)

Click here for information on ticket types, plus a seating plan for the Verona Arena