Tickets for the 2023 Verona Opera Festival are now available, with a wide range of performances premiering with Aida on the 16th June 2023 and ending with La Traviata on the 9th September 2023.




Romeo and Juliet is not being performed at the 2022 Verona Opera Festival. Click here for the full list of performances.


There's obviously something about the story of Romeo and Juliet that captures the imagination of writers and audiences. William Shakespeare pinched the story from Arthur Brooke's narrative poem The Tragical History of Romeus and Juliet (1562), but the tale is certainly older, with versions cropping up from the early 16th century and beyond. In modern times, of course, we've had creative rewrites such as Bernstein's 'West Side Story'. The themes of love, misunderstanding, blind prejudice and tragedy, the waste of young lives and the battle of love against blood ties are enduring ones then, and they have inspired no fewer than 24 operas. And that's before we get started on a dozen or more movies, Prokofiev's ballet and Tchaikovsky's symphonic poem.
Add to that weighty collection the five-act opera from the pen of Charles Gounod, composed in 1867 to a libretto by Jules Barbier and Michel Carre (based of course on Will Shakespeare's tragedy. Our characters are Juliet (soprano), Romeo (tenor), Frere Laurent (bass), Mercutio (baritone), Stephano (mezzo-soprano), Count Capulet (bass), Tybalt (tenor), Gertrude (mezzo-soprano), the Duke (bass), Gregorio (baritone), Paris (baritone), Gregorio (baritone), Benvolio (tenor), Frere Jean (bass).
Act I has a tempestous orchestral beginning as we enter a masked ball at the Capulets' palace. Tybalt (nephew of Capulet) is telling his friend Paris of Juliet's beauty and she enters, becoming the focus of attention. Romeo (of the Capulets' bloody rivals the Montagues) and friends Mercutio and Benvolio have used their masks to surreptitiously gatecrash the enemy's ball. He tells Mercutio that he has had black premonitions, but Mercutio dismisses them as 'the work of Queen Mab. Here we have the ballad 'Mab, la reine des mensonges'. Romeo sees Juliet and falls in love with her immediately.Her nurse, Gertrude sings the praises of Paris, but she is uninterested, singing the waltz'Je veux vivre'. Romeo and Juliet meet and sing the madrigal 'Ange adorable'. The friends rush away, and the watching Tybalt reveals to Juliet that the stranger was a detested Montague.
Act 2 and the famous balcony scene. Romeo sings the cavatina 'Ah, leve-toi, soleil'. He hides as the Capulet guards appear, singing the chorus 'Personne. Le page aura fui'. Romeo reappears and they sing a duet 'O nuit divine'. The agree to marry.
Act 3 in Brother Laurent's cell. This maker of secret potions sings the cavatina 'Breceau de tous les êtres'. Enter Romeo who tells him of his love for Juliet. Next comes Juliet with Gertrude. He marries the pair (a sung trio and quartet with 'Dieu qui fis l'homme à ton image'). We move to the street before the Capulet palace, where Romeo's page Stephano, who mocks the Capulets with a song 'Que fais-tu, blanche tourterelle?'. Out come the Capulets and Stephano challenges Gregorio to a duel. Mercutio berates Gregorio for fighting with a boy, and Tybalt and Mercutio fight. Romeo arrives and Tybalt calls him a coward, but Romeo pleads for an end to the enmity. A furious Mercutio elects to defend Romeo's honour and takes a mortal blow. Romeo loses his head and kills Tybalt. The onlookers sing in grief at the disaster, and Montague exiles Romeo to Verona.
In Act 4 we are in Juliet's room, where she forgives Romeo. The lark cries the break of day and Romeo flees. Capulet, Gertrude and Brother Laurent enter and sing the quartet with her: 'Juliet! Ah, le ciel soit loué!'. Capulet announces that Tybalt's dying wish was to see Juliet wed Paris. 'I'd rather die' she tells the friar, who hatches a cunning plan. She will take a sleeping draught that will appear to kill her but - after she is borne to the family tomb - she will awake. Juliet sings the aria 'Dieu! Quel frisson court dans les veines'. She drinks, collapses, and Capulet believes his daughter is dead.
Act 5, and we are in the family tomb. Brother Jean tells Brother Laurent that the messenger, explaining the sleeping draught ruse, never got to Romeo. They hurry off to find a new envoy. Now Romeo enters, sees Juliet 'dead' and drinks a vial of poison. She wakes, and they sing of their love. Romeo tells her he will be dead in moments. Juliet takes a dagger and ends her life. The pair pray for God's mercy.
The story closes follows the Shakespeare then, the words obviously not (and it's sung in French of course!). Gounod isn't to every critic's taste, with 'sugary' being a typical criticism of his orchestration, and this 'Romeo' has never quite had the fame elsewhere that it enjoys to this day in France. That said, it's long been a mainstay of the operatic repertoire in the US as well as Europe. The audience come knowing the story of course, but there is a marvellous mix of musical forms (and gorgeous music). 'That rarity ... the successful adaptation of a Shakespeare play as an opera' according to Gramophone magazine.
Please note that an Agency handling fee per item will be added during checkout.
Seating key
Tickets marked as Poltrone (reduced) are only available for visitors under 30 years old or over 65 years old. Please note that you may be asked for a document proving your age in order to enter.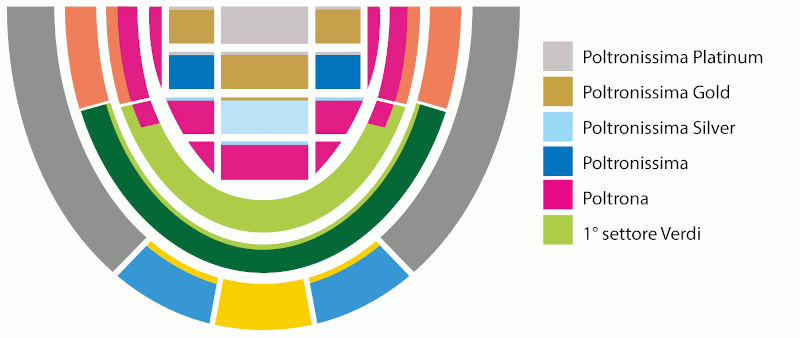 Click here for more information on ticket types for the Verona Arena

Click here to book your Opera and ticket type for the Verona Opera Festival (all)

Click here for information on ticket types, plus a seating plan for the Verona Arena