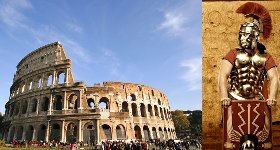 Colosseum guided tour, gladiator entrance
If you like to make an entrance then this is the Colosseum guided tour for you! A fully guided tour of the Roman Colosseum, the Roman Forum and the Palatine Hill archaeological area, it sees you enter the Colosseum via the Gladiator's Gate and emerge directly onto the sand-covered arena floor, a section of the Colosseum that is ordinarily closed to visitors.
The tours lasts around three hours and is fully guided, fully skip-the-queue - in fact it's an 'express' entry as the Gladiator's Gate is not used for standard Colosseum access. As well as the restricted battle-floor area, you'll also see the 'Cross' area, the spot where Rome's Good Friday celebrations are initiated each year.
Colosseum 'Gladiator's Gate' guided tour of ancient Rome
On the arena floor, the ancient site where gladiators and beasts fought bloody battles for the titillation of the huge crowds and their emperors, your guide will explain the mechanics and the preparation of these unmatched spectaculars, how they were so important for the society of the time, recounting the history and the secrets of many a noted historical Roman.
After the Cross, scene each year of a Papal visitation, and a symbol of Christian pilgrimage, you'll continue to explore the Colosseum and its lower tiers, before leaving the Colosseum to see the 4th century Arch of Constantine, monument to the said Emperor declaring Christianity to be the religion of the Holy Roman Empire.
From there you'll head to the Roman Forum (as before, all sites are skip-the-queue), the social heart of ancient Rome, the political heart and the site of many a dangerous intrigue; you'll also visit the Palatine Hill area, the oldest part of Rome. Where better to hear tales of legendary Empire, not to mention the legend of the she-wolf that nursed Remus and Romulus, founders of the city of Rome. Not everything is on such an epic scale, and your guide will be sure to recount tales of the day-to-day life of an ordinary Roman citizen at hthe height of the glories of the Roman Empire.

This is a full 'skip-the-queue' ticket.

This tour is never more than 30 people.

This tour lasts approximately three hours.

Includes entrance to the arena floor, not ordinarily open to visitors.

Voucher must be printed. You must print these vouchers in order to exchange them for your tickets - an email or a copy of the voucher on your phone or mobile device will not suffice.

The meeting point for this tour is beside the Colosseum - full details will be on voucher.

The date and time of your visit cannot be modified so please be sure to arrive on time - it's recommended that you're there at least 15 minutes before start time.

Useful tips - be sure to wear comfortable footwear as the tour covers some relatively rough terrain!