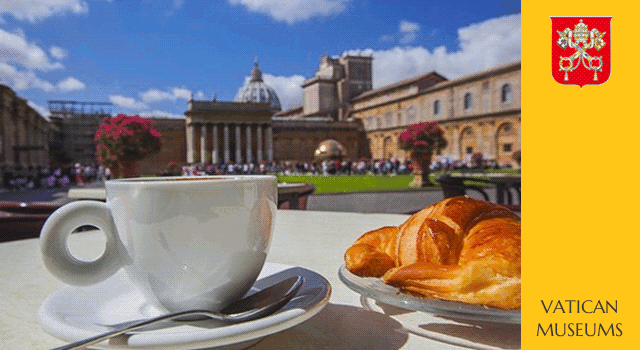 Included in the price is breakfast at the Vatican prior to your visit. If the weather's good then you'll do this outdoors (in the Pine Cone Courtyard), otherwise it will be in the Vatican Cafeteria; breakfast includes both American and Italian specialities (pastries, cured meats, cheese, even eggs and pancakes, all prepared on the spot).
Included with your tickets is an e-book guide to the Vatican and the Sistine Chapel, written by two prominent Italian Art Historians and available to download as epub (for iPad and iPhone, Android, and many ebook readers), mobi (for Kindle) and PDF for pretty much everything else.
Why book in advance? Well, queues on the day can be enormous, with hours spent just waiting and wasting your precious time; with our system you can just roll up at the Vatican, join the special queue for those that have booked, present your voucher, and you're in. It is only possible to confirm bookings up to sixty days in advance, but we can take bookings until the end of the year and place them on hold for you.
*Please note that as St Peters is a church you do not need a ticket to enter and you can visit at any time during its opening hours, although you may have to queue depending on the number of visitors. If you want to skip the queues, we offer these tours.