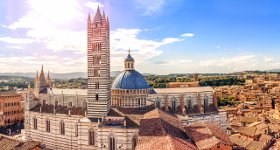 Siena and S. Gimignano excursion
How to join a full day excursion from Florence to Siena, San Gimignano and Chianti, wine tasting included.
This is a full day tour that heads off from Florence in the morning, first to explore Siena and then on to San Gimignano, with a stop at a Chianti countryside farmhouse to taste some local wine and typical produce en route. You'll see the picture-postcard countryside of Chianti and espy medieval villages and hilltop villas along the way.
The excursion leaves Florence at 08.45 in the morning and lasts around 11 hours; the tour runs on Mondays, Tuesdays, Wednesdays, Fridays and Sundays from 31st October to 31st March.
Florence will enchant you, of that there's little doubt, but you are likely to want to see at least some of the wonderful countryside of Tuscany, and where better than the Chianti wine-producing region? With this day long excursion you'll see much of medieval Tuscany, town and country, and you'll be well advised to have backup batteries for your cameras.
On the way from Florence there will usually be a stop off to explore Monteriggioni, a gorgeous example of a small, fortified Tuscan hilltop town.
You'll then be shown Siena in the company of a local guide who'll guide you along steep medieval streets and show you around the breathtaking cathedral (interior) as well as the impressive Town Hall and the famous Piazza del Campo, home to the annual palio. There will then be some free time for lunch (not included) and some shopping.
Bext stop is the UNESCO World Heritage Site, San Gimignano, the medieval Manhattan, where bankers outdid each other to build the highest tower in town. You'll have some free time to wander the alleyways of this memorable and evocative place, discovering ancient churches and hidden squares as you go.
Driving through the lovely countryside you'll next stop off for a wine tasting at a typical Tuscan winery, enjoying some execellent local wines alongside a light snack.
4.0 stars out of 5 from 2 ratings.
RW, Australia
12th May 2016
The tour wasn't bad but with all the stops it was a bit rushed. It would have been good to have a bit more time in San Gimignano and not have stopped at the small town at the start of the tour. Still a very enjoyable tour and Stefano was very knowledgable.