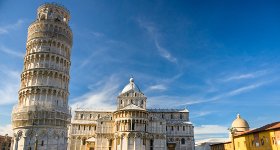 Pisa and Lucca excursion
This is a full day tour that heads off from Florence in the morning, first to explore Pisa and then Lucca, with a stop at a Lucca pastry shop to try the famed delicacy buccellato before heading back to Florence.
The excursion leaves Florence at 09.00 in the morning and lasts around 8 hours and 30 minutes; from April until the end of October the tour runs on Tuesdays, Thursdays and Saturdays, whereas from November until the end of March it runs on Thursdays and Saturdays only.
It is, of course, a given that Florence is hardly wanting in terms of attractions and distractions, but it may well be that you'll want to see a touch more of Tuscany whilst you're there. This day trip ticks many Tuscan boxes - you get to see the amazing buildings of Pisa's 'Field of Miracles', the Leaning Tower (exterior) included; you'll explore the winding timeless streets of Lucca, that most perfect of medieval Italian towns, and before heading back to Florence you'll stop off at a Lucca pastry shop to try the famed delicacy buccellato.
You'll have a guided walking tour around Pisa's 'Field of Miracles', seeing the exteriors of the Leaning Tower and the Baptistery and the interior of the splendid cathedral (in case this isn't possible, you'll visit the grand Piazza dei Cavallieri instead), followed by some time for shopping and photographs. This tour does not involve climbing the Leaning Tower.
In Lucca you'll have free time to stroll around the historical town, to see the famous walls, the amphitheatre, the Guinigi Tower and the impressive Romanesque cathedral. Lucca will feel less crowded than Pisa (not to mention Florence) and after your explorations you'll have the chance to visit a Lucca pastry shop to try the famed delicacy buccellato - you're said to have not truly visited Lucca unless you've sampled buccellato!
5.0 stars out of 5 from 2 ratings.
SC, United States
6th Apr 2018
The only drawback is that the meeting place was hard to find. Excellent tour!!
RK, United States
16th Jan 2015
Great, wonderful guide....would do it again!