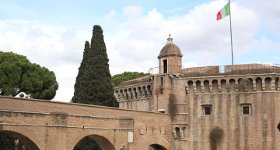 Early Vatican & Private Castel Sant'Angelo Secret Areas Tour
*** This tour is temporarily unavailable for booking - we hope to have it open again so please keep checking for availability!
A most unusual and exclusive tour, this one - an early morning, crowds-free visit to the Sistine Chapel, a skip-the-queues tour of St Peter's, a priviliged, extraordinary visit to the Passetto di Borgo (ordinarily closed to the public), and a visit to the historic prisons of Castel sant'Angelo.
The secret 'Passetto', an elevated passage that links the Vatican to Castel sant'Angelo, is over 800 metres long and is rarely open - when it is, it's for small groups only, never more than 15 people at a time. It's a long tour, approximately five hours, but it starts early, has a small break in the middle, and is over in time for lunch!
Early Vatican & Private Castel Sant'Angelo Secret Areas Tour
This is a fully-guided, small group tour (maximum 15 people) that will see you meeting up in the Vatican City for a 7.30 AM start (Friday and Saturday mornings only). Your guide will whisk you directly to the Sistine Chapel, before it is open to the general public. Learn about possibly the most famous work of art in the west, and fully soak up the wonder of Michelangelo's frecoed ceiling, all the more reverentially thanks to the lack of crowds.
From there it's onwards to St Peter's Basilica, skipping any queues via a priviliged entrance, to begin your tour of this baroque triumph of Bernini and Bramante, full of breathtaking pieces such as Michelangelo's Pietà. Please note that climbing up to the cupola is not included. It takes a while to be shown the largest church in the world, to appreciate the heart of Christianity, and after your visit you'll enjoy a small break.
Outdoors again, your guide will lead you to the imposing Castel sant'Angelo; commissioned as a mausoleum by the Emperor Hadrian but latterly used as a fortress and castle by various popes, it is now a fascinating museum. Your guide will explain all as your visit takes in the historical prisons as well as the stufetta, an ornate papal bathroom!
From the 'Angel's Castle' you'll reach the 'Passetto', the secret papal passageway that enabled many a getaway from the Vatican by a perilously-threatened pope. It was built in 1277, and it's elevated position offers incrdible views as it winds towards the Vatican. Your guide will evoke the period and point out many a landmark along the way.
This tour offers not only one of the most diverse and rich itineraries you're likely to find, but also a chance to visit a place that only a limited few get to see each year.