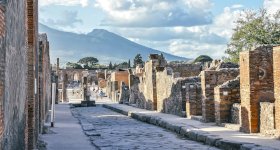 Exclusive Pompeii Private Guided Tour (3h)
Tickitaly is able to offer special guided tours of Pompeii in the company of a dedicated English-speaking tour guide who will introduce you to the artistic, archaeological and architectural wonders of this incredible place. These are private tours - the group will comprise your party and your party only, offering you a privileged and dedicated tour.
Tours last around three hours and are an ideal voyage of discovery for those visiting Pompeii for the first time.
Not that it's a bad thing, but the ruins and excavations of Pompeii cover a huge area - it was, after all, a thriving Roman port - and, especially if your time is limited, a tour with a fully qualified guide is likely to be the best way to ensure your visit isn't a frustrating one. Your guide will be a local, fully-qualified Pompeii tour professional, guaranteed to give you the level of archaeological and historical detail that a trip to Pompeii merits.
Tours last around three hours and you can pick your preferred start time, from 9.00 AM up until mid-afternoon. Again, your tour group will consist of only you and your party, the guide will just be showing you around, no mixed or large groups, and this is reflected in the price, clearly. Should there be any queues on the day then you'll be skipping those - the included tickets are skip-the-line ones.
So, you'll be personally escorted around the ancient city, visiting such highlights as the Forum, the House of Menander, the Lupanare brothel, the thermal baths and the much-photographed series of plaster casts that poignantly reproduce the frozen-in-time bodies of the many victims. A far from exhaustive list would look like:
Marina Gate
The Forum and Forum baths
Lupanar (brothel)
Temples of Venus, Jupiter and Apollo
The House of the Faun
Bakery
Teatro Grande
The Odeon (smaller theatre)
The Triangular Forum
The House of Menander
The House of the Tragic Poet
The Sarno Baths
Termopolium Capuano
Plaster casts
It's a cliché, yes, but a trip to Pompeii is a walk through history, a step-back to an often incredibly well preserved society, a chance to stroll through Roman family homes and municipial buildings, often ornately decorated with frescoes and mosaics.
Voucher must be printed. You must print these vouchers in order to exchange them for your tickets - an email or a copy of the voucher on your phone or mobile device will not suffice. This is a full 'skip-the-queue' ticket. Please note that all bags and luggage exceeding 30*30*15 centimetres must be left in the cloakroom on site (free of charge). Tours last approximately 3 hours. Wear comfortable walking shoes, sun protection in high season.
5.0 stars out of 5 from 3 ratings.
BB, United States
31st Jul 2019
Excellent guide. One of the best ways to really get a sense of Roman life and Marco helped bring that to life.
CS, United Kingdom (Great Britain)
6th Sep 2017
Our guide was very informative and polite. Anna was ready for us at the time given to us in the e-mail and tended to our needs throughout the tour. It's well worth hiring a guide as you are told about things you might not otherwise see or understand.