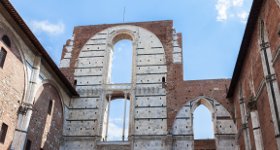 Siena Duomo and The Gate of Heaven
This ticket covers everything included in the standard 'Siena Duomo pass' and, additionally, allows you to freely explore the splendidly decorated rooms of the Gates of Heaven (Porta del Cielo), previously closed to the general public. You can spend up to half-an-hour in the rooftops, and then as much time as you want in the Cathedral (opening hours allowing). Please see the video further down this page for a glimpse of what to expect.
Your visit to the 'Gates of Heaven' will need to be on the date selected and you will have to pick up your tickets 15 minutes before the specified start time. The pass is valid for 3 days and you may visit the other places covered by the pass as you wish.
The cathedral complex dominates the skyline of Siena and with this single pass you may explore the whole of it, below ground, the interiors and their history, and a final visit to on high to enjoy some simply jaw-dropping views across Siena and the surrounding Tuscan countryside.
The pass covers: The Duomo di Siena (cathedral), Baptistery of San Giovanni, the cathedral crypt, the cathedral museum, the panoramic terrace of the Duomo Nuovo, the Oratory of San Bernardino and access to the 'Gate of Heaven' rooms high up in the cathedral roof space.
Standard opening hours are as shown below.
Mid April - November 1st, 10:00 – 19:00.
November 2nd - February 28th, 10:30 – 17:30.
December 26th - January 8th, 10:30 - 18:00.
Sunday closing time varies from 17.00 to 18.00, and please be aware that, as with all churches in Italy, unscheduled religious events or services may cause last-minute variations in timings and openings.
Please note that on Sundays the cathedral is closed until 13.30.
Each year there is usually a time when the incredible marble floors are uncovered - 'Scopertura Pavimento'. This inlaid marble floor is a magic carpete that is covered for most of the year – to protect it – comprising 56 panels from many a noted artist such as Sassetta, Domenico di Bartolo, Matteo di Giovanni, Domenico Beccafumi and Pinturicchio (the Hill of Wisdom).
For 2020 it is expected that the dates will be June 27th to July 31st and 18th August to 18th October - tickets also include access to this famous marble-graffito Pavimento del Duomo, described by Vasari as 'the most beautiful… largest and most magnificent… that was ever made'.