Book tickets for the Correr Museum, Venice.
Correr Museum - ticket types, opening times, how to gain admission
Correr Museum, Venice, Italy - visitor information
The Museo Correr is a hugely ambitious museum charting the history of Venice from the 13th to the 16th century through its collection of paintings, prints, coins, weapons, military regalia … almost any made objects that have survived from medieval and Renaissance Venice are fair game for inclusion here.
Add a second space of 15 rooms devoted to the Risorgimento, plus the Libreria Sansoviniana and we have an exhaustive (and potentially exhausting) journey through Italian history. It makes for a fascinating, diverse if at times overwhelming tour, so you should get a good guidebook and plan your tour: this is a big museum.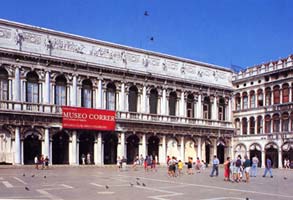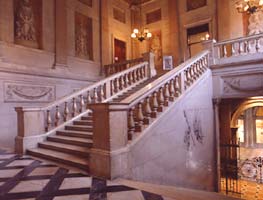 There are some standouts you must see however, including a host of works by the prolific Bellini family. There is Jacopo Bellini's Crucifixion and his son Gentile's Portrait of Doge Mocenigo. Gentile's brother, Giovanni Bellini is represented by the Crucifixion and the Transfiguration and the important Pieta. This last dates from 1445–1455 but was lost until the mid-20th century. The rediscovery is particularly important as it was painted at the start of the great artist's career, probably during his time in Padua.
Other pieces to watch out for include Lorenzo Lotto's Portrait, Antonello da Messina's Pieta and Vittore Carpaccio's Two Venetian Ladies. There is work too by Luca Cranach and Hugo Van der Goes.

The Museo Correr has a smaller museum dedicated to the Risorgimento (the resurgence in Italian nationalism that culminated in the Unification of Italy in 1866. Five of the 15 rooms tell the story of Daniele Manin, and his rebellion against the Austrians.

The final part of the Museo Correr is the Libreria Sansoviniana. As so often in Venice, we see a superb marriage of an historical collection with a magnificent old building, itself historically important. The Libreria occupies one side of the Piazzetta, the open space between San Marco and the waterfront pavement of the Molo.
A prime example of 16th century Venetian architecture, the Libreria Sansoviniana was started by Sansovino and finished by Scamozzi. Monumentally Classical, it has a portico and loggia, Ionic columns and a balustraded roof, and was originally commissioned to house the Biblioteca Marciana (the library of St Mark). It's now an exhibition space. The huge staircase climbs to the vestibule with its frescoed ceiling (Titian's Wisdom). The main hall has paintings of philosophers by Tintoretto, Veronese and Andrea Schiavone.
You may view a location map here.
Click for a fully zoomable Google map here.
Book tickets for the Correr Museum, Venice.
Correr Museum - ticket types, opening times, how to gain admission
Quick booking links:
Accademia tickets : Uffizi tickets : Uffizi guided tours : Colosseum tickets : Florence guided tours :
Vatican tickets : Vatican tours : Borghese tickets : Venice Museums : The Last Supper : Last Supper - tours : Verona Opera tickets : Pisa Tower tickets : Pompeii and Naples area tickets
Florence tickets : Rome tickets : Venice tickets : Milan tickets : Verona Opera