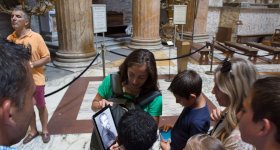 Rome, Kids & Families Private Tour
Rapid confirmation.
This is a unique tailor-made tour which allows your young ones to immerse themselves in Roman history while they enjoy a fascinating treasure hunt around the Colosseum, the Roman Forum and the Palatine Hill. Skip the line to visit the best known Roman sites and follow the treasure map to discover the menagerie of stone and bronze animals to be found along the way.
Starting from the impressive Spanish Steps, this private tour lasts around 3 hours and takes you past the recently restored Baroque style Fontana della Barcaccia in Piazza di Spagna to the world famous Trevi Fountain. The younger members of your group 'collect' the animals in fountains, church facades and palace walls as you stroll along the Via del Corso and visit Piazza Colonna, Piazza Montecitorio, arriving in Piazza della Minerva with its delightful baby elephant and the church of Santa Maria sopra Minerva with its breathtaking blue interior. Your expert guide will share her knowledge of the the architecture and history that surrounds you, while keeping the younger members of your group engaged with their themed treasure hunt. Continuing on your tour you will visit the Pantheon, one of the best preserved of all Ancient Roman buildings, and end up in the beautiful and stunningly theatrical Piazza Navona.
As with any treasure hunt, your path is divided into sections with questions to be answered at each stop. A map is supplied at the beginning of the tour to help you spot the steps along the way. This is a fun and absorbing way to discover the history of Rome - the excitement of the treasure hunt while learning about this amazing city as you go.
You will visit:
Spanish Steps
Trevi Fountain
Pantheon
Piazza Navona
Fountain of the Four Rivers
A private and officially licensed guide and headsets are included in the price of your tour.
The tour runs daily throughout the year at 9.00 AM and 3.00 PM but is not available on 24th, 25th, 26th and 31st January or on public holidays.