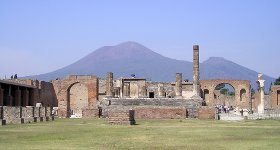 Select tour from Sorrento to Pompeii with Wine Tasting
This trip runs on Wednesdays, starting early in the morning with the short drive to Pompeii, for a walking tour in the company of an experienced guide. Thence to a vineyard on the slopes of Vesuvius where the chief winemaker will explain local grapes and winemaking, followed by a light lunch and wine tasting.
This tour does not include entrance fees for the excavations of Pompeii and it is for a maximum of 18 people.
This tour leaves Sorrento at 8:00 AM and returns at about 4:00 PM, Wednesdays only.
Light lunch (included): Homemade bread, cherry tomatoes from Vesuvio, salami, bacon, fresh olives, pickles, Pasta di Gragnano allo 'Scarpariello', provolone cheese DOP, walnut craft honey, homemade dessert and matched wines. There will also be a chnace to sample the local Lachryma Christi wine.
Please don't forget your passport, and remember to wear comfortable shoes!
Entrance fees: Please note that some of the following fees may not be included in your ticket (this will be stated in the ticket description):

- Excavations of Pompeii. The first Sunday of the month is free of charge.

In order to take advantage of reduced or complimentary tickets, you must present valid identification (ID card or passport) on the day.
As this is a new offering we do not yet have any customer reviews. Watch this spot - we'll be posting reviews as soon as we receive them!