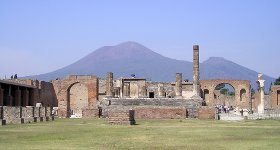 Sorrento to Pompeii and Vesuvius
A day trip to see the forums, baths and villas of ancient Pompeii in the company of an experienced guide. After breaking for lunch the tour continues to Vesuvius, Europe's most famous volcano, famous for burying Pompeii in ash in 79 AD.
This tour does not include lunch or entrance fees for the excavations of Pompeii or to Vesuvius, including the first 'free' Sunday of the month.
The tour departs from Sorrento at 8:10 AM and returns at 5:00 PM, with a half-hour drive along the scenic Sorrentine Peninsula before arriving at the UNESCO World Heritage site of Pompeii. Smothered in ash in 79 AD, the city was lost in time until the mid-eighteenth century. Protected from erosion and treasure seekers alike, it offers a unique insight into the day to day life of this ancient Roman town.
After some free-time for lunch, the tour continues to Vesuvius, with a walk to the peak to admire the crater and the breathtaking views, before returning to Sorrento in the afternoon.
The tour is in English, but it is possible to arrange bilingual tours (English/French or English/German) for groups of 10 or more.
Entrance fees: Please note that some of the following fees may not be included in your ticket (this will be stated in the ticket description):

- Excavations of Pompeii. The first Sunday of the month is free of charge.
- Entrance to Vesuvius area. The first Sunday of the month is free of charge.

In order to take advantage of reduced or complimentary tickets, you must present valid identification (ID card or passport) on the day.
5.0 stars out of 5 from 2 ratings.