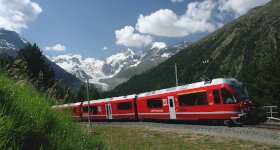 Bernina express train
Rapid confirmation.
Take a trip across the Bernina Pass and into Switzerland on one of the world's most striking railways.
This exciting day trip will take you to the small alpine town of Tirano on the Swiss border, where you'll have free time to explore and have lunch.
In the early afternoon, you'll board the Bernina Express for an unforgettable train trip across the Bernina Pass, a UNESCO world heritage site, and into Switzerland. The trip lasts about two and a half hours and ends in St Moritz, where you'll visit a chocolate house and have free time to expore this luxury resort town.
This trip departs from Milan every Tuesday and Saturday in low season, every day of the week in high season, always at at 7.00 AM, returning at around 8.00 PM.
On Tuesdays and Fridays the tour is in english only, on Monday, Thursday, Saturday and Sunday, it's in english and spanish, and on Wednesday;s, it's in English and Portugese.
IMPORTANT: A current valid passport is required on the day of travel - You MUST confirm and obtain any visa requirements prior to crossing the border.
4.0 stars out of 5 from 1 ratings.
DW, United States
21st May 2019
Rate 3. The train was great. I do think that we spent too much time getting to the train. There were too many stops. I would have liked more time to explore St Mortiz