How to book tickets for the Leaning Tower of Pisa?
| | |
| --- | --- |
| ★★★★★ | 65 |
| ★★★★ | 12 |
| ★★★ | 1 |
| ★★ | 1 |
| ★ | 0 |
It is strongly recommended that you book in advance should you wish to ascend the Tower of Pisa ... access is strictly limited and showing up on the offchance is likely to see you having a long wait to find an opening time, if indeed it is not already fully sold-out - not uncommon at peak season.
The tower is open to visitors 7 days a week, and the closing time varies according to time of year (in high season it's open until late at night, for example). Once you've selected a date you'll be shown the available visit times. Only ten people are allowed up every 20 minutes, your visit will be around 30 minutes, and children under the age of 8 are not allowed up the tower.
It is not possible to confirm bookings that are more than 45 days from today, but please go ahead and order your tickets and we'll place them on back-order for you, confirming them as soon as the 45 days falls due. We also have a page with visitor information for the Leaning Tower of Pisa should you fancy some background colour. If you happen to be based in Florence then we offer two excursions from there - a trip to visit the tower of Pisa and a day trip that takes in both Pisa and Lucca.
Please begin the booking procedure by selecting the your date preference using the calendar below. On the next page tell us the time range that is available to you for your visit; you must specify a minimum 'range' of two hours but we'd urge you to be as flexible as possible given the limited availability. Your booking will be made at any time within the hours you've specified, never outside them. Do remember that dates are in European (day-month-year) format.
Simply select the ideal date for your visit by clicking on the calendar to the left*.
Once you've selected a date on the calendar we'll show you the ticket options that are available, one or more of which may be of interest to you.
HOW YOU'LL GET YOUR TICKETS:
To reserve your tickets for the Tower of Pisa, just fill out the booking form, supply us with credit card details, and we'll do the rest. Once we confirm your reservation we'll then point you to our secure page, where you can print out your voucher. Print it out, take it with you and present it at the pre-arranged meeting point. As simple as that!
Please note that you must deposit any bags/luggage in the cloakroom (see below) before you go up the tower. Your visit will last about 40 minutes and it is permitted to use cameras and videocameras.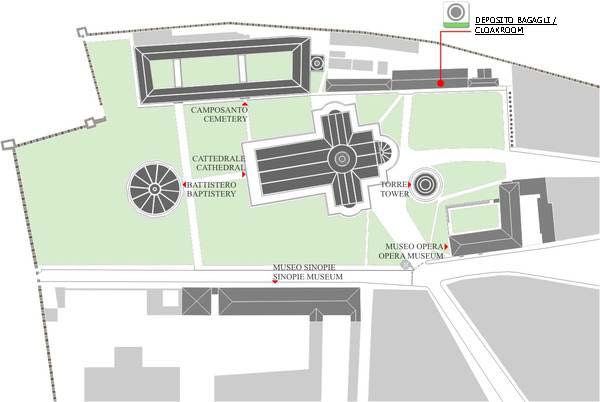 Quick booking links:
Accademia tickets : Uffizi tickets : Uffizi guided tours : Colosseum tickets : Florence guided tours :
Vatican tickets : Vatican tours : Borghese tickets : Venice Museums : The Last Supper : Last Supper - tours : Verona Opera tickets : Pisa Tower tickets : Pompeii and Naples area tickets
Florence tickets : Rome tickets : Venice tickets : Milan tickets : Verona Opera