How to book package tickets for the magical outdoor Andrea Bocelli event in Tuscany
Andrea Bocelli 'Teatro del Silenzio' event
based on
42
recent ratings.
27

user reviews
| | |
| --- | --- |
| ★★★★★ | 24 |
| ★★★★ | 7 |
| ★★★ | 8 |
| ★★ | 2 |
| ★ | 1 |
We're delighted to be offering our packages for the 2016 edition of 'Teatro del Silenzio'. As in past years, we do not sell standalone tickets, rather packages offering tickets alongside a mix of transport and accommodation options.
The Teatro del Silenzio (or Theatre of Silence) is an open air amphitheatre located in a stunning position near tenor Andrea Bocelli's home town of Lajatico in Tuscany. The venue was created at Bocelli's suggestion and in July of every year typically hosts this performance, while for the rest of the year it lives up to its name and the stage area is transformed into a lake with a central platform where a series of sculptures have been exhibited. Year after year sees demand outstrip supply for this legendary event, so early booking is always recommended.
This event takes place on Saturday the 30th of July 2016 and starts at 20.15 - it is entitled 'Le Cirque' - the Circus - and sees the maestro performing a variety of pieces, including a selection of famous arias, on the enduring theme of the circus and the world of spectacle, backed by a major symphonic orchestra and an amazing choir. It has been announced that there will only be this single showing of 'Le Cirque'. Details of guests and special appearances have yet to be announced, but they are always just that - special!
Please see below the details of the various packages on offer - again, more will be added over coming days.
We know that you all like to plan well ahead and, given that this event sells out very quickly year after year, if you'd like to be notified of when we'll be taking orders for the 2017 edition, along with news when we get it, then please sign up for our mailing list.
We have now sold out of tickets for this year - Sorry!
HOW YOU'LL GET YOUR BOOKING CONFIRMATION:
To make reservations for the Bocelli concert all-in package, just fill out the booking form, supply us with credit card details, and we'll do the rest. Once we confirm your reservation we'll charge your card and then provide further details on your transport, accommodation and tickets, where appropriate.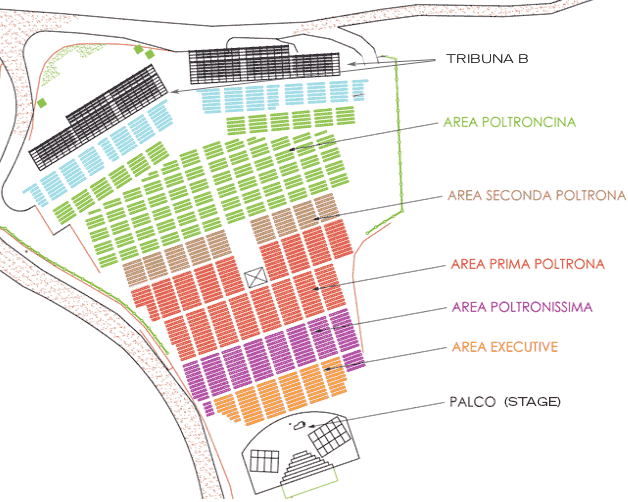 Please note that unlike the other sections, "Tribuna" seats are not assigned but will be filled on a first-come-first-served basis.

Quick booking links:
Accademia tickets : Uffizi tickets : Uffizi guided tours : Colosseum tickets : Florence guided tours :
Vatican tickets : Vatican tours : Borghese tickets : Venice Museums : The Last Supper : Last Supper - tours : Verona Opera tickets : Pisa Tower tickets : Pompeii and Naples area tickets
Florence tickets : Rome tickets : Venice tickets : Milan tickets : Verona Opera