How to book package tickets for the annual outdoor Andrea Bocelli concert in Tuscany
Sorry, we have already exhausted our allocation for this year's event.
Pretty much the only negative feedback for this event concerns transport and arrangements on the day of the event. The location is a special one, but it's a rural one. To that end, we can help to arrange special coach transfer to and from the event, with pickup/dropoff points in Florence, Pisa, Valdera area, Lucca, Viareggio, Volterra, Montaione, San Gimignano and Colle di Val d'Elsa.
You'll be taken to the pedestrian access point in Lajatico, and professional local staff will offer assistance as necessary. Please send us an email for more information.
2013 edition - date confirmed for Saturday 13th July.
The news is that the date has been confirmed for Saturday July the 13th 2013 and that reservations will be available before too very long. Members of the official fan club have been able to make advance requests for a few days now - everyone else will be able to book from the 29th of January onwards.
(Whilst you're at it, if you're interested in signing up for news of the 2014 concert, then join our mailing list here.)
As you probably don't need telling, this annual event is always sold out well in advance and, with this in mind, we plan on taking orders now and putting them in a queue on a first-come-first-served-basis. Details are too skinny to even be called thin - for now we know the date and time (8.15 PM) and that's it!
It goes without saying that we can offer no guarantees as to availability, we'll simply put your order in a queue and if, and only if, we're able to fulfil your order, we'll then charge your credit card. Please allow us to stress that it won't be until after the 29th of January that you'll hear from us again as absolutely nor orders are able to be confirmed before that date. We'd ask you to be patient and wait to hear from us in the couple of days following the 29th of January.
The Teatro del Silenzio (or Theatre of Silence) is an open air amphitheatre located in a stunning position near tenor Andrea Bocelli's home town of Lajatico in Tuscany. The venue was created at Bocelli's suggestion and in July of every year hosts only one performance, while for the rest of the year it lives up to its name and the stage area is transformed into a lake with a central platform where a series of sculptures have been exhibited.
Please select the type of package that you'd like to request from the dropdown box here below - the seating plan/type of ticket is explained by the illustration further down this page.
HOW YOU'LL GET YOUR BOOKING CONFIRMATION:
To make reservations for the Bocelli concert/rehearsals, just fill out the booking form, supply us with credit card details, and we'll do the rest. Once we confirm your reservation we'll then point you to our secure page, where you can print out your voucher to take with you on the day - said voucher will be exchanged for your actual tickets on site.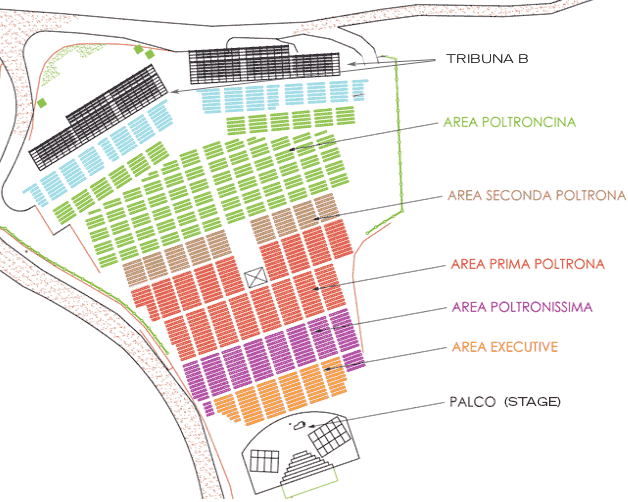 Quick booking links:
Accademia (David) tickets : Uffizi tickets : Uffizi guided tours : Colosseum tickets : Florence guided tours : Vatican tickets : Vatican tours : Borghese tickets : Venice Museums : The Last Supper : Last Supper - tours : Verona Opera tickets : Pisa Tower tickets : Pompeii and Vesuvius area tickets
Florence tickets : Rome tickets : Venice tickets : Milan tickets : Verona Opera