In case you're not yet aware, the original date for the 2019 edition of Andrea Bocelli's Teatro del Silenzio has completely sold out. As a result, the maestro has announced a second date – Saturday July 27th 2019.
The concert details remain exactly the same – the second date will be a repeat of the first one, about which there is now a special announcement – Matteo Bocelli, Andrea's son, featured on the current album, will be performing at both dates!
It has also been confirmed that the stage and spectacular effects will be designed by Luca Tommassini, already acclaimed for having worked on the 2016 and 2017 editions of Teatro del Silenzio, a choreographer who has worked with the likes of Madonna and Michael Jackson.
We have very limited availability for this second date and, again, are offering a mix of private transfer and accommodation packages – click here for details.

We've been providing packages for the concerts in Tuscany for over a decade, and this year we're delighted to also be offering the same for a unique concert in Taormina, Sicily.
On the 30th of August 2019 *** and now also for the second, just announced date – the 31st***, Andrea and his son will be performing at the Teatro Antico, Taormina – the incredible ancient Greek Theatre there – click here for details.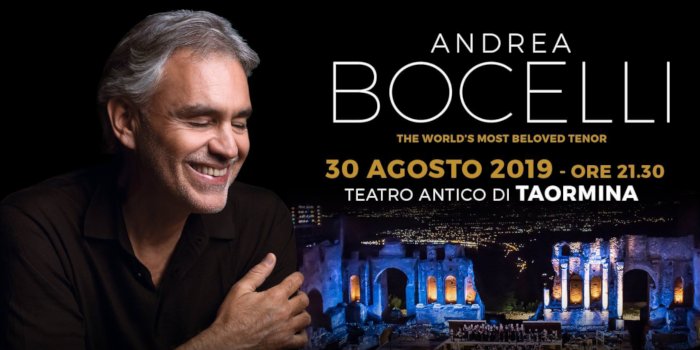 If you're interested in the 2020 edition, sign up to our mailing list for news and updates.