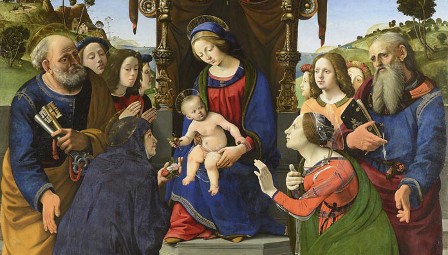 "Piero di Cosimo (1462-1522) – Pittore "fiorentino" eccentrico fra Rinascimento e Maniera
Uffizi Gallery, Florence
23rd June – 27th September 2015"
Piero di Cosimo is not a well known artist – this exhibition has it that he absolutely should be, a Renaissance great. A contemporary of Botticelli, Leonardo, and Michelangelo, Piero was known for his great originality and variety, hence the 'eccentric' of the title. His themes ranged from the sacred to the profane and he liked to be a storyteller in his art.
Moving to Florence from the National Gallery of Art in Washington, this exhibition features round 45 works plus another 30 or so designs and this number is raised to around 100 works thanks to the addition of various contextual works by some of Piero di Cosimo's contemporaries.
"No artist has given the world more rare and singular inventions while remaining in the shadow of the Renaissance greats of his time than Piero di Cosimo," said Cristina Acidini, Superintendent of Cultural Heritage for the City and the Museums of Florence. "His beguiling pictorial creations will linger in the imagination of all those who see the exhibition."
This exhibition is one of many during Florence's 'Year of Art 2015' and, as always, prices that we show include entrance to any special exhibitions running at that time.
Book Uffizi tickets here
Or perhaps an Uffizi Gallery guided tour?