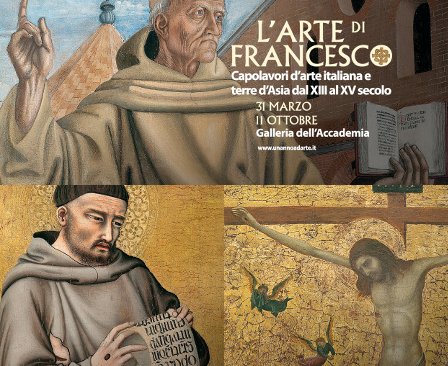 'L'Arte di Francesco' – Masterpieces of Italian art and Asian lands from the 13th to the 15th centuries'
Galleria dell'Accademia, Florence
31st March – 11th October 2015
This ambitious and wide-ranging exhibition runs until mid October 2015 and sets out to:
… illustrate, at the highest quality level, the flowering of art – painting, sculpture and the sumptuary arts – directly related to the Franciscan movement between the 13th and 15th centuries.

At the same time, it endeavours to highlight the Franciscans' astonishing achievement in spreading the gospel throughout Asia, from the Holy Land to China thanks to a collection of matchless and extremely evocative exhibits of supreme historical importance, including the horn traditionally thought to have been given to the saint by Egyptian Sultan al-Malik al-Kamil when they met in Damietta, in Egypt, in 1219 and now preserved in the chapel of the relics in the Basilica of St. Francis in Assisi.
The Accademia is, of course, most noted for being home to Michelangelo's David but it is also home to a celebrated collection of medieval painting and this exhibition understandably seeks to tie-in to said collection. Beyond that, visitors will also be able to admire fine works from collections both national and international. The video below will undoubtedly impart some of the flavour of this exhibition.
Book Accademia (David) tickets now
Guided tours of the Accademia Gallery