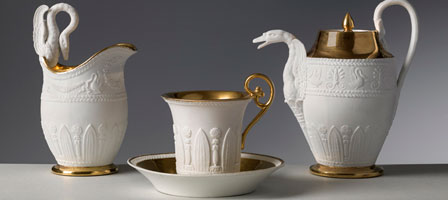 'Luxury and Elegance: French porcelain and Richard Ginori.'
Musei degli Argenti, Pitti Palace, Florence,
19th March – 23rd June 2013
On the 40th anniversary of the opening of the Porcelain Museum at the Palazzo Pitti this exhibition (held, slightly confusingly, in the Silver Museum), will put on show over 100 pieces of fine porcelain from from the collections of both Palazzo Pitti and from the Richard-Ginori museum of the manufacturer Doccia.
As a result of Napoleonic influences, Italian porcelain manufacture changed greatly due to the importation of techniques and styles from France, nowhere more so than at Doccia under Carlo Leopoldo Ginori Lisci. The exhibition features works from French and Italian galleries as well as from some important private collections.