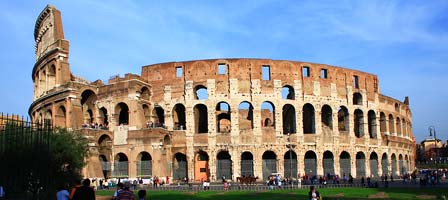 Rome, Colosseum dungeons and upper level tours, Autumn and Winter 2012
If anything changes we'll post here, most recent comment will always be the first one, the second comment will go into slightly greater detail about what is and what isn't available.
Latest news: On Saturday the 15th bookings finally opened, but the computers in Rome wobbled a bit before hitting their stride. By the end of the day we have managed to clear all orders with visit dates up to next weekend. Tomorrow – Sunday – it's not possible to confirm anything, but rest assured on Monday we shall start to clear remaining bookings, hopefully filling and confirming everything by the end of the week. Thanks for your patience, and fingers crossed now that we shan't see the flooding of last year.
15th September 2012: As of today we shall begin to confirm the most urgent orders, later bookings to be confirmed in short order. We shall also accept bookings right through until the end of 2012.
11th September 2012: The latest news is no latest news. We can state that we're 99% convinced that this is STILL a case of when, not if, and that there will be further availability for dungeon tours past the 15th of September. We spoke to Rome again this morning (they are still as exasperated us everyone else is) but at no time has it been suggested that there is any short-term doubt about ongoing availability.
The rain has not been that bad, indeed the responsible official may still be on a beach in Sardinia, and it is still, weeks later, a case of needing to wait for a rubber stamp or a signed document before the bottlekneck can begin moving.
14th September 2012:
Colosseum standard tickets and standard tours, standard meaning neither dungeons nor upper levels included: bookings may be made for any date in 2012, 2013 orders will be put on hold until we're able to confirm them.
Colosseum by night: now fully sold out, the last visit date for 2012 will be October 6th.
Colosseum tours including a visit to upper and lower (dungeon) levels: We shall begin completing these orders as of Saturday 15th September 2012. all requests for visit dates falling after September the 15th are still being put on back-order hold until a suit somewhere in Rome 'allows' the Colosseum authorities to begin processing orders. This is 100% a bureaucratic block, a local governanace issue, and nobody, nowhere, no how, is able to confirm an order. They can do what we have done, which is accept an order, sacrifice a goat, study some entrails and hope that the green light is given in time for your visit. As ever, we will charge nothing whatsoever until we are able to confirm an order.
If you do have an order for a Colosseum dungeon tour on hold with us and your visit date is drawing ever nearer than your options are to hold-on-and-hope … if you have access to email in Italy then you can always print out your voucher at the last minute … if you don't have email access then let us know the fax number of your accommodation and we can fax your voucher right up to the day before your hoped-for visit … or you may simply contact us requesting that we cancel your on-hold order and substitute it with a standard tour or a standard ticket.
Finally, if you simply leave your order on hold, hoping for an eleventh hour miracle, don't worry about needing to request a refund – as with all of our tickets and tours, we charge nothing until we have 100% confirmation of availability. Your order will simply lapse and will never be charged.