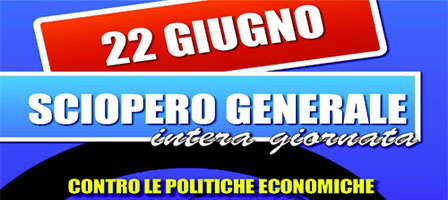 Italy – national transport strike, 22nd June 2012
Starting on Thursday evening (21.00) and running for 24 hours is a strike affecting pretty much all public transport in Italy. Some airports, flights and airlines will also be involved. Some buses and trains will run, but only at certain hours and with a restricted service.
First of all, a couple of links that may prove useful … Trenitalia has a list of trains that are confirmed to be running – see the column with 'confermato' – confirmed, 'cancellato' – cancelled or 'limitato' – restricted service. The Transport Ministry has a page with limited information here, and you'll find a longer and more detailed list of regional issues here.
To sum up – no trains will be running outside the ones listed in the link above. A notable exception to this is the Emilia Romagna region, excluded from all strike action given the ongoing clean-up, post earthquakes.
Local buses. Assume no service for most of the 24 hour period. In Milan there should be some buses running between 15.00 and 18.00, in Rome there will likely be some service between 17.00 and 20.00.
Tram and underground/metropolitan staff will be striking nationally.
All ferry crews will be striking from 08.00 on Friday 22nd.
Flights – from midnight on Thursday until midnight on Friday, staff at Milan Linate and Malpensa will be striking. All staff of the airline Meridiana Fly will be on strike in the same period, again with the exception of Emilia Romagna. For all flights you are advised to check with your airline. Here are some Italian airport links:
Clearly you should be informed and plan ahead. It's going to be hot, so if you're forced to travel on foot for any distance, take water with you.