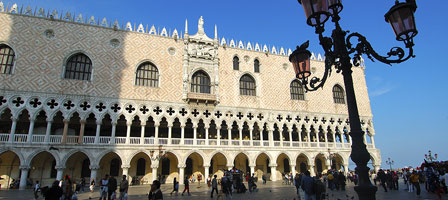 The Secret Itineraries tour of the Doge's Palace – Palazzo Ducale – in Venice are always popular and often sold out. Only 25 people may enter at a time, and this limitation becomes worse in high Summer as the tours do not ordinarily run in the afternoon – the comparatively cramped spaces become far too hot for comfort.
Given this, we try to arrange some extra spots early in the morning. We're obviously delighted to be able to do this, but a condition is that we provide our own tour guide … this results in a higher cost as we're obliged to include the Doge's Palace itself as part of the tour. Of course this may also be soon as a positive thing, so enough with the self-deprecation here!
On the 22nd of June and the 6th, 11th, 13th, 18th, 20th, 25th and 28th of July, at 8.40 AM we are delighted to be able to offer a one hour and 45 minute fully-guided tour of the Palazzo Ducale and the Secret Itineraries sections of the Palazzo – click the dates on the calendar to begin the booking process. Watch this space for new of extra dates/availability.