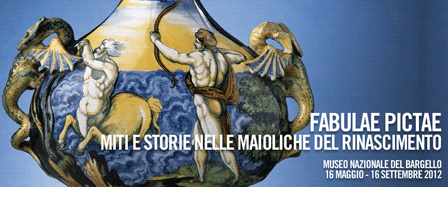 'Fabulae Pictae. Miti e Storie nelle Maioliche del Rinascimento'
Museo Nazionale del Bargello, Florence
16th May – 16th September 2012
An exhibition of Majolica pieces from Renaissance times that shows just how much these works of art came to be true 'painted fables', taking their inspiration directly from literature, myth and legend, history and figurative sources.
There are gems from Medici times alongside prestigious examples from national and international collections, and the ceramics are divided across two broad themes – classical mythology and ancient history.
A brief catalogue (PDF) may be downloaded here (Italian only)
Official site for Florence exhibitions 2012
Tickets for the Bargello Museum, Florence