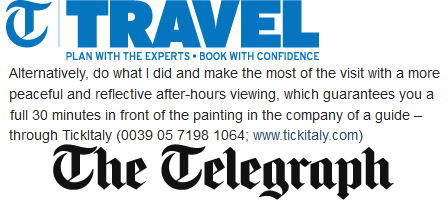 We first ran our exclusive after-hours tours and viewings of the Last Supper in 2011 … they proved a great success (as evidenced by the quote above from the UK's Daily Telegraph) and we're delighted to announce that we've secured some dates for next year, 2012. We hope to be adding some more dates, but for now we have limited availability on the following dates (all Saturdays in 2012):
April 7th and 28th, May 5th, 12th and 26th, June 9th and 16th and finally, for now, July 21st. Click here to book one of these exclusive visits to view the Last Supper.
Below are a handful of photographs of the venue taken a couple of weeks ago – they may prove useful for orientation if you've not visited before. The ticket office and entrance is the doorway in the small building off to the left of the church.