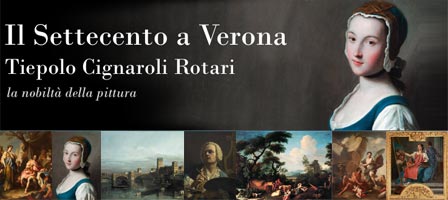 'Il Settecento a Verona. Tiepolo, Cignaroli, Rotari'
Palazzo della Gran Guardia, Verona
26th November 2011 – 9th April 2012
A major exhibition featuring over 150 works drawn from galleries around the world that aims to show how Verona, despite proximity to Venice, very much had its own artistic style, especially during the 18th century.
The art of Verona during the' age of enlightenment' had a rich and varied palette and the originality of the Veronese will be highlighted through the works of Antonio Balestra, Simone Brentana and Louis Dorigny amongst others, with the exhibition having 9 distinct thematic sections.
An interesting and unusual feature of the exhibition will be the virtual-reconstruction of the ceiling of Palazzo Canossa a Verona, and the large fresco by Giambattista and Giandomenico Tiepolo, heavily damaged during the second world war.
Official site (Italian only)
Italy ticket booking