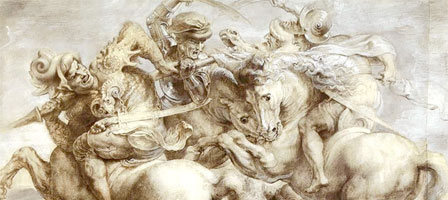 More than a year ago we wrote that finally, finally, explorative work was about to begin to solve the mystery of the missing Leonardo Da Vinci masterpiece. Well, more than a year later, it has done.
Yesterday saw the first micro-bores drilled into the artwork that is thought to be covering the elusive masterpiece, and they'll be drilling more of them every night for a week or so. This has not happened without protest, from local art experts to local members of Berlusconi's party, all of whom are calling foul as regards what they think is wilful damage to an existing masterpiece (by Vasari).
However, work is under way and in a week or two the video footage should all be in and an answer forthcoming. This article is in Italian, but there are a few photographs showing the scene of the operation. Or crime, according to your point of view.