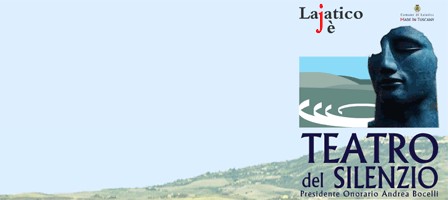 Andrea Bocelli and the 'Teatro del Silenzio' concert.
*** Update, 31st Jan – tickets close to being sold out, only non-numbered seating in rear area remaining.
The roll call of this now annual fixture – presided over by Maestro Andrea Bocelli – always makes for impressive reading, and although the 2012 details are yet to be confirmed (watch this space), we do know for sure that the format will return to a more classic (and classical) one after last year's Chinese-themed edition.
This year's 'Theatre Of Silence' concert takes place on July 12th 2012 and we are now taking advance bookings. The concert takes pleace in Bocelli's home of Lajatico which, despite being in the province of Pisa is actually closer to Volterra and San Gimignano, as the crow flies.
Below is a video – from Bocelli's YouTube channel – that will give a feel for the venue for this unique concert:
Ticket booking for the Andrea Bocelli 'Teatro del Silenzio' concert in Tuscany