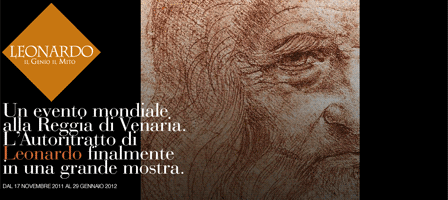 'Leonardo. Il genio, il mito'
Turin, Scuderie Juvarriane della Reggia di Venaria
17th November 2011 – 29th January 2012
Opening tomorrow is one of the last of the key events of the year that marked the 150th anniversary of the unification of Italy – a major exhibition on the genius of Leonardo da Vinci. The undoubted jewel in the crown here is the legendary self portrait (autorittrato) from the Biblioteca Reale in Turin.
An Italian genius and a universal legend. The famous Autoritratto is for the first time on display in a great exhibition, together with the works of artists that, in the course of centuries, took their inspiration from the genius of Leonardo.
Official exhibition site
tickitaly.com – Italian reservations