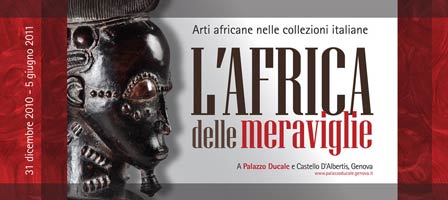 Genoa, Palazzo Ducale, Piazza Matteotti 9, until the 5th of June 2011
'L'Africa delle meraviglie. Arti africane nelle collezioni italiane.'
Monday to Friday, 09.00 – 19.00, Weekends 09.00 – 20.00
'Wonders of Africa – African art in Italian collections' is (yet another!) new art exhibition for Genoa in 2011. An exhibition of over 350 pieces is intended to transport the visitor into the heart of sub-saharan Africa, the culture and ways of life, their costumes, from Mali to the Congo, from Liberia to Cameroon.
A short official video for the exhibition:
Official site (Italian only at time of writing)